Automation Fair®, Booth #1317: MVP Tips for Your Applications, Prizes, and More!
Learn More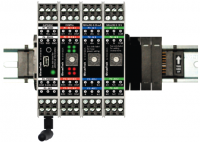 Multi-Point Wireless I/O Radio Kit
BM-xxxx-GM1K
ProSoft Technology's Multi-Point Wireless I/O system allows you to monitor I/O from multiple locations without running long wires. This secure, reliable system is scalable and deploys quickly, allowing you to skip trenching, conduit, and permits. Three module types: Analog 0-10 V, Analog 4-20 mA, and Digital/Discrete – give you the freedom to customize your setup based on your environment and needs.
The system can be used in different methods: I/O to I/O, I/O to Modbus serial communications, and Modbus® serial to Modbus Serial communications. This peer-to-peer system can move data from the I/O or Modbus devices to any other node. The digital input module can act as a counter and send the accumulated value to another location.
I/O Modules
Features and Benefits
Single power termination per station saves wiring time
AES encryption ensures data is protected from intrusions
Peer-to-peer communications allow data from any radio to any radio
Scalable solution supports up to 1,000 nodes
Specifications
Hardware & System
| | |
| --- | --- |
| Specification | Description |
| Device Functionality | Multipoint Wireless I/O Gateway |
| Embedded Controller | 32-bit Low Power ARM7 Microcontroller with Internal FLASH (Field Upgradeable) |
| Serial Interfaces | RTU Port (RS232/RS485 Modbus Master or Slave) Terminal Block |
| Configuration | Mini-USB to Serial |
| Self-Diagnostics | Contains Comprehensive Self-Checking Software and Hardware for continuous Monitoring of Operation |
Radio
Specification

Description

Type: 900 MHz / 2.4 GHz

ISM Band, FSK (Frequency-Shift Keying), AES Encryption 256-bit (900 MHz), 128-bit (915 MHz)
900 MHz: FHSS (Frequency Hopping Spread Spectrum) / 50 Freq Ch x 10 Hopping Tables
Channel Size: 500 KHz for 1 W Radio
2.4 GHz: DSSS (Direct-Sequence Spread Spectrum), AES Encryption 128-bit
Channel Size: 5 MHz, Utilizes 12 out of 802.15.4 Standard 16 Channels

Frequency

863 to 870 MHz (Europe) / 902 to 928 MHz (North Am) / 915 to 928 MHz (Aus, Int'l) / 2.4 GHz (US/Int'l)

Bit Rate

868 MHz and 900 MHz: 9600 bps / 115.2 kbps
2.4 GHz: 250 kbps

Output Power

868 MHz: 10 to 25 mW
900 MHz: 1 mW to 1 W
2.4 GHz: 10 mW to 63 mW

Receiving Sensitivity

-110 dBm @ 9600 bps, -100 dBm @ 115.2 kbps, or -100 dBm @ 250 kbps

Range (Peer-to-Peer)

900 MHz: Up to 30 Miles (48.3 Km)
868 MHz and 2.4 GHz: Up to 5 Miles (8 Km)

Antenna Connector

MMCX
Physical
Specification

Description

DC Power Input

9 to 30 VDC

Average Power Input

2 Watt

Power Consumption

Idle: 100 mA
Configuration: 110 mA
Transmission: 350 mA

Dimensions (W x H x D)

0.7 x 3.9 x 4.5 in, 17.5 x 99 x 114 mm

Package Dimensions (W x H x D)

5.5 x 10.1 x 2.8 in, 140 x 257 x 72 mm

Weight

Net: 0.3 lbs / 136 g; Packaging: 0.8 lbs / 363 kg

Mounting Hardware

Requires DataRail™ and 35 mm DIN Rail

Operating Conditions

Temperature: Class I; Div 2: -40 °F to 176 °F (-40 °C to 80 °C)
Ambient: -4 °F to 176 °F (-20 °C to 80 °C)

Humidity: 0 to 99 %, Non-Condensing

Warranty

2-Year Parts and Labor

Country of Origin

Made in USA