Automation Fair®, Booth #1317: MVP Tips for Your Applications, Prizes, and More!
Learn More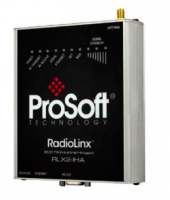 802.11a High Power Industrial Hotspot RLX2 (FCC)
RLX2-IHA-A
The 802.11a High Power Industrial Hotspot™ (RLX2-IHA) is a high-speed wireless Ethernet radio for long range applications up to 5 mi. / 8 km. The RLX2-IHA uses the 5 GHz band and supports a data rate up to 54 Mbps. The radio features Ultra-Fast access point switchover times of less than 10 ms, which is ideal for applications such as automated storage-retrieval systems, automotive skillet lines, and bottle filling machines.
The radio will be appreciated by both sides – OT and IT. Your OT personnel will like the radio's EtherNet/IP embedded object and Modbus agent support, which allows them to get diagnostic data into their PLC immediately, where they can analyze and act upon data, optimizing your resources. IT departments will appreciate the radio's SNMP support.
Features and Benefits
EtherNet/IP™- or Modbus®-based PLCs/PACs can use message instructions to read diagnostic information from the radios, helping to reduce down time when troubleshooting wireless network problems.
802.11i, WPA-2 Personal/Enterprise using 128-bit AES encryption ensures secure networking
RADIUS security ensures secure networking with advanced authentication and encryption
Virtual Local Area Networks (VLAN) allow for secure network segmentation
Quality of Service (QoS) provides data prioritization for I/O control devices, video data, etc.
Ultra-Fast Roaming (under 10ms) maintains seamless, high-speed connections to one or more devices on moving equipment and machines (such as cranes, AGVs, and carriers) as they travel between Access Points
IGMP Snooping & Packet Filtering optimizes UDP multicast traffic for superior EtherNet/IP I/O communications
Supports the ability to communicate with multiple Ethernet devices when used with existing third-party wireless infrastructures
Supports Power over Ethernet (PoE) to reduce cabling costs
Disaster recovery feature allows the radio configuration to be stored on a microSD card for quick field replacement
Connect serial networks (Modbus, DNP 3, etc.) over 802.11 wireless networks
SNMP support
Simple local and remote configuration, monitoring, and wireless network diagnostics
Specifications
Radio
Frequency Band
(Varies by country)

802.11a
5.150 GHz to 5.250 GHz (FCC/ETSI)
5.725 GHz to 5.850 GHz (FCC)

Wireless Standards

802.11a, 802.11i

Transmit Power (Programmable)
(varies by country)

23 dBm (200 mW)

Channel Data Rates (Modulation)

802.11a: 54, 48, 36, 24, 18, 12, 9, 6 Mbps (OFDM)

Receiver Sensitivity (Typical)

-92 dBm @ 6 Mbps
-84 dBm @ 24 Mbps
-72 dBm @ 54 Mbps

Channel Selection

36, 40, 44, 48, 149, 153, 157, 161, 165

Security

WPA2 - 802.11i with 128 bit AES-CCM
Legacy WPA TKIP, WEP support
MAC ID filter, Admin password
Physical
Enclosure

Extruded aluminum with DIN and panel mount

Size

14.8 x 11.8 x 3.8 cm (H x W x D)
5.82 x 4.64 x 1.48 in (H x W x D)

Shock

IEC 60068 2-6 (20g, 3-Axis)

Vibration

IEC 60068 2-27 (5g, 10Hz to 150Hz)

Ethernet Ports

(1) 10/100/1000 Base-T, RJ45 connector

Serial Port

(1) DB9 female (serial tunneling & encapsulation)

Antenna Port

(1) RP-SMA connector

Weight

1.1 lbs (499g)
Environmental
Operating Temperature

-40°C to +75°C (-40°F to +167°F)

Humidity

Up to 100% RH, with no condensation

External Power

Power over Ethernet

10 VDC to 24 VDC

802.3af Compliant

Peak Power Consumption

< 7W