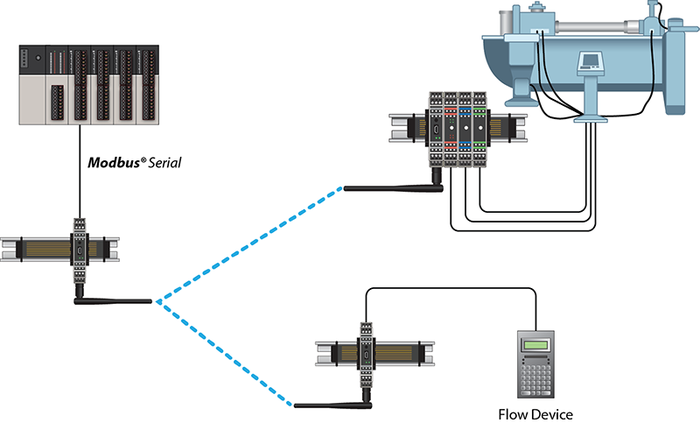 Wireless I/O: No Trenching, No Permits, No Conduit. No Problem.
If you've ever dug a trench, waited for a permit, pulled conduit, and placed cable to ensure I/O communications, you know the (then-necessary) frustrations. Collecting signals in process and control applications is a must, and this process was the one you had to take. (Sometimes repeatedly if a cable was cut, or another site was added.)
With a wireless I/O system, you can avoid that extra work – the permits, the trenches, the conduit, all of it – and quickly set up point-to-point or multi-point communications. If that wasn't tempting enough, you'd benefit in other ways:
· Decreased maintenance: The thing about wired communication is that their primary component can break – and cause you to lose data while it's fixed. If you want to avoid redoing all that work again (and potentially again after that), wireless is the way to go.
· Flexibility: You don't know what'll be happening a year or five years from now. The one constant you probably do know is that when you hear you need to connect one more site, you likely won't feel like updating your wired network again. Multiply that several times over, and you can see the benefit of a solution that lets you quickly set up new data collection sites. As your application expands, you need a communications network that can do the same. Wireless I/O solutions can be used indoors or outside as well.
· Quick setup: Considering all the steps you'll be able to avoid when you bypass a wired setup, you'll be able to set most wireless I/O systems up fairly quickly. Most solutions will also feature a plug-and-produce setup, saving you valuable time.
How Wireless I/O has been used in the real world
Wondering what a wireless I/O system might look like? A couple of examples:
∙ A construction truck company in Switzerland used a point-to-point wireless I/O solution to save its employees time when trucks needed to access their facility. Someone used to have to be outside to facilitate the opening of a gate for returning trucks. Wireless I/O modules are now used in the office and at the main gate, where truck drivers press a button to be allowed past the gate.
∙ Companies in Peru are using wireless I/O systems to connect flow meters to control rooms, in point-to-point and multi-point configurations.
Learn more about point-to-point and multi-point wireless I/O solutions.