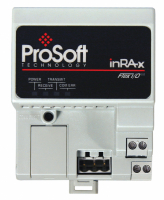 Modbus Slave Network Interface Adapter for FLEX I/O
3170-MBS
The MVI94 Modbus Slave Network Interface Adapter can interface up to 8 Rockwell Automation FLEX and/or Integra I/O modules directly with any Modbus Master.
Features and Benefits
The 3170-MBS module is simple to use, requiring only the setting of several dip-switch options. The Flex and Integra module data images are pre-mapped into Modbus addresses to simplify reading and writing using standard Modbus commands. Each product is shipped with a User Manual detailing its installation and operation.
Applications
The 3170-MBS module provides highly configurable Slave capabilities to the Rockwell Automation FLEX and/or Integra platform. The product is frequently used in two general applications, SCADA Slave or as a foreign device interface master. In a SCADA Slave application the module could be used in remote controller racks as is often used in the oil and gas, or wastewater industries.
Hardware
Specification

Description

Form Factor

Single Slot 1794 Backplane compatible
Locate in any slot of Backplane

Backplane current load

20 mA @ 5 VDC

External power supply

12 VDC to 24 VDC

340 mA to 170 mA

Operating temperature

32° F to 131° F (0° C to 55° C)

Storage temperature

-40° F to 185° F (-40° C to 85° C)

Shock

30 g operational
50 g non-operational

Vibration

5 g from 10 to 150 Hz

Relative humidity

5% to 95% (without condensation)

LED indicators

Module status
Backplane transfer status
Application status
Serial activity and error LED status

Configuration Serial port (PRT1)

Mini-DIN
RS-232
Hardware handshaking

Application serial Port (PRT2)

Mini-DIN
RS-232/422/485 jumper selectable
500 V optical isolation from backplane

Dimensions (with Module installed in Base)

Height x Width x Depth
3 in. x 3.7 in. x 2.7 in.
94 mm x 94 mm x 69 mm