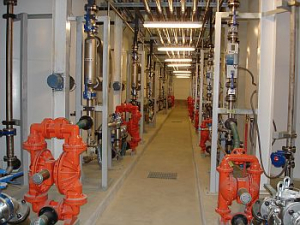 Meter Maintenance & Controls Inc. (MMCI) is a system integrator and technology supplier in Redlands, California, that specializes in true turnkey liquid measurement solutions. They have set up or retrofitted plants for a major international paint and coatings company in a number of cities. New plants receive a top-to-bottom paint blending and batching system, with everything from the piping, to the electrical, to the process equipment and programming being supplied, installed, and programmed by MMCI.
To handle the paint blending process in each of these plants, MMCI recommends Emerson Process Micro Motion flow meters. These flow meters measure mass flow, volume flow, and density and temperature variables, and provide precise control measurement of the various ingredients that are blended together to create a given batch of paint.
From a management and operation standpoint, the end user wanted a system that would allow the entire enterprise to be integrated, from the plant floor controls to the information systems. Plant operators need diagnostic information for monitoring of the process and for identifying maintenance needs or problems on the line without requiring that the operator be trained on the control system. The laboratory also needed access to this information for quality control and trending.
As a loyal Rockwell Automation® customer, MMCI chose to use a Rockwell Automation Process Automation System (PAS) to extract data from the flow meters. As each flow meter batches a raw material into a mixing tank, the process variables are recorded by RSSql™ and ultimately presented to the end user's operators in a Rockwell Automation RSView® HMI. In RSView an alarm system is implemented with predetermined setpoints that, when triggered, alert the operator and provide cues indicating the proper action can be taken. These process variables are also pulled into RSSql to give the end user's laboratory access to historical data for all past batches.
Challenge
With the ideal equipment selected for the plant, what remained was a networking problem.
Emerson Process developed the HART (Highway Addressable Remote Transducer) Multi-drop protocol in the 1980s, so naturally the Micro Motion systems are programmable and communicate via the protocol. HART is a highly accurate and robust protocol, making it ideal in process industries, but to push this diagnostic information through to the HMI, MMCI needed to convert this data somewhere along the line to Rockwell Automation's EtherNet/IP™ protocol.
"Rockwell Automation Ethernet communication is like the golden child. With other providers of HART interfaces we have used, we have needed to use an OPC server to collect and distribute the information, which required that we write our own code," said a programmer and systems engineer for MMCI. "We just needed a way to communicate between our ControlLogix® PAC and the flow meters."
Solution
Terry Davis, CEO of MMCI, approached Tom Thuerbach, Branch Manager for Royal Wholesale Electric in Riverside, California, to help him find a solution. Thuerbach recommended ProSoft Technology's EtherNet/IP-to-HART multi-drop communication gateway.
"I know Terry Davis demands high-quality, reliable products for his customers. It was an easy decision to recommend Rockwell Automation and ProSoft products," Thuerbach said.
A Process Automation Business Manager for Rockwell Automation added: "EtherNet/IP is core to Rockwell Automation's Integrated Architecture that helps end-users like this one converge industrial and business technologies plant-wide. ProSoft's gateway offering leverages the EtherNet/IP backbone to create a powerful process control application that can easily communicate with other plant-floor and information systems."
"MMCI has been using Rockwell and ProSoft products for years…possibly since we first started as a company in 1989," Davis said. "We use ProSoft's Modbus® ControlLogix cards all the time, so it was a no-brainer. Now we try to use their HART gateway in all the paint plants we work in, and have plans to apply it in many other industries we serve. Just recently MMCI replaced a Pepperl + Fuchs HART Multiplexer system with ProSoft's in a facility. We were glad to find a modern solution for an old communication platform."
Implementation
In all, MMCI has set up five plants for the end user, with each project involving anywhere from 30 to 50 flow meters.
In a general application, MMCI has all HART flow meters linked up to a single ProSoft gateway. The gateway routes the data over Ethernet to the ControlLogix. The ProSoft module acts as a bridge, allowing the PAS to communicate seamlessly with the flow meters. Once data is extracted from the meters it can be distributed to RSSql and RSView.
Conclusion
The greatest benefits of the new system are streamlined efficiency, simplified monitoring and operation, and the creation of a quality-control process for preventative and predictive maintenance.
"Our plants are happy with the feedback that we are now receiving from our meters," says the end user's director of engineering. "Using this information, we have been able to modify our preventative maintenance plans to stay ahead of any issues before they occur. For example, we began changing out filter bags before the pumps and meters. In the past if the bag wasn't changed out we would reduce the flow to the point that we would have meter inaccuracies. Now that the system tracks this data, we have been able to see how often we should be changing these bags to avoid any errors when batching, and are able to act before an error occurs.
"Also, in the past if someone had a theory that a metering problem caused a quality issue with a batch, we could not prove or disprove them. We had to look at the meter the next time it was used. Now, with stored data several times per minute for each meter charge, we can go to the real data from the questioned charge and either prove or disprove this theory. The ability to avoid meter inaccuracies will definitely help us from a quality standpoint."
The end user's Lead Engineer added: "With the HART system we can track and standardize flow rates of materials between sites. We also use the density outputs to monitor solids levels in our slurry tanks. Logging the history enables us to track line cloggages and take preventive action. In several situations we have used the historical HART data in conjunction with RSSql to troubleshoot issues that have occurred within the batching system itself... meters faulting out, misdirected flows, incorrect RSSql transactions, and more."
From a monitoring and operations standpoint, the process allows any person in the plant at any given time to view activity on the floor, the Watch Dog Timers set up by MMCI, and any other critical information. This saves money and time for the end user in regard to hiring and training employees, plus the rework and maintenance that would otherwise have to be done by a technician. The system has a user-friendly manner and because the measurement system is so accurate, the system nearly runs itself and downtime is mostly eliminated.
"I know the end user appreciates not having to call us out there every time they run into a maintenance hiccup, though the systems still operate without issue today," Davis said.
Learn more about ProSoft Technology's communication solutions for Rockwell Automation platforms here.