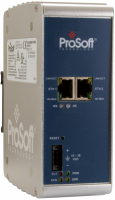 EtherNet/IP™ Server to IEC 61850 Dual Port Client Gateway
PLX82-EIP-61850
The ProSoft Technology® EtherNet/IP™ to IEC 61850 communication gateway allows Rockwell Automation® PACs to interface with IEC 61850 Intelligent Electronic Devices (IED) such as substation power monitors and relays. The gateway acts as an IEC 61850 Client polling the devices on your network.
The two ports allow the IEC 61850 and EtherNet/IP™ protocols to reside on separate subnets.
Features and Benefits
The supplied configuration software enables you to import all of your relevant IED tags into your Logix controller tag database reducing configuration time and errors
Multiple EtherNet/IP™ I/O connections give you large amounts of data to transfer in a real time environment
Standards-based identification of device types simplifies implementation and maintenance
Configuration
Configuration is accomplished through the dedicated PLX82-EIP-61850 Configuration Manager software which can be downloaded from our website, www.prosoft-technology.com. The configuration utility automatically creates the Add-On Instruction to be used in RSLogix™ 5000/Studio 5000 and brings the data over as configured.
Specifications
IEC 61850 Client
Specification

Description

ACSI Basic Conformance

SCSMs supported

SCSM: IEC 61850 8.1(MMS) used

ACSI Model Conformance

Reporting

Buffered Report Control Block (BRCB)
Unbuffered Report Control Block (URCB)

GOOSE

Direct-with-Normal-Security
SBO-with-Normal-Security
Direct-with-Enhanced-Security
SBO-with-Enhanced-Security

Logical Nodes

IEC 61850 Logical Nodes, including Logical Nodes for Hydro Power Plants and Logical Nodes for Wind Power Plants

Configurable Parameters

MMS Command Delay

Status Data

Status available per node
Report and GOOSE status available
High-level status data available from Ethernet/IP
Client through the Ethernet/IP Server (for example PLC or PAC)
SNTP/NTP Client
The gateway supports a Simple Network Time Protocol (SNTP/NTP) client service that can synchronize the gateway's time by periodic update requests to a Coordinated Universal Time (UTC) system. The user can configure the SNTP/NTP server details in ProSoft 61850 Configuration Manager. The resolution of the time is in milliseconds (ms).

Specification

Description

Configurable Parameters

SNTP/NTP server synchronization rate in minutes
SNTP/NTP server address
EtherNet/IP™ Server
The gateway supports multiple communication methods to fit your application. In addition, it features multiple EtherNet/IP™ I/O Connections. (20 maximum, providing support for 10,000 bytes of input data and 9920 bytes of output data)

Specification

Description

Class 1 Messaging
Class 3 Messaging

I/O connections for real-time data transfer
PLC messaging support
Hardware Specifications
Specification

Description

Power Supply

24 VDC nominal
10 to 36 VDC power input allowed
Positive, Negative, GND Terminals
2.5 mm screwdriver blade

Current Load

200 mA max @ 24 VDC
150 mA max @ 32 VDC
450 mA max @ 10 VDC

Operating Temperature

-25°C to 70°C (-13°F to 158°F)

Storage Temperature

-40°C to 85°C (-40°F to 185°F)

Relative Humidity

5% to 95%, with no condensation

Dimensions
H x W x D

11.99 x 5.1 x 10.62 cm
4.72 x 2.0 x 4.18 in

Shock

IEC 60068-2-27; 15G @ 11ms (Operational)
IEC 60068-2-27; 30G @ 18ms (Non-Operational)

Vibration

IEC 60068-2-6; 5G, 10 to 150 Hz

LED Indicators

ERR, CFG, FLT, PWR

Ethernet Ports (E1, E2)

10/100 Base-T half duplex RJ45 Connector Link and Activity LED indicators
Electrical Isolation 1500 V rms at 50 to 60 Hz for 60 s, applied as specified in section 5.3.2 of IEC 60950: 1991
Ethernet Broadcast Storm Resiliency = less than or equal to 5000 [ARP] frames-per-second and less than or equal to 5 minutes duration

Shipped with Each Unit

One - J180 screw terminal plug
One - HRD250 screwdriver