Picturesque gardens dot the city of Suzhou, in eastern China's Jiangsu province. Some of these gardens, known as the Classical Gardens of Suzhou, date back as far as the 11th century, and were designed by some of China's renowned scholars. Nearby, numerous canals crisscross the city that is known as the Venice of the East. 42 percent of the city is covered in water through its canals and waterways.
"Suzhou City is one of the most famous tourism cities in China," said Gary Zhang Zhen Hua, ProSoft Technology China Sales & Technical Manager.
But while the area is likely one of the more picturesque in the world, thanks to its gardens and canals, it is also highly populated with more than 10 million people and is largely industrial. Like many cities in China, automobile congestion is a problem. The city needed to install its first subway system to help alleviate its traffic congestion.
After more than four years of construction, the Suzhou Metro Line I opened a while back. It encompasses 24 stations that connect the east side of the city to the west side over about 16 miles. The line extends from the Mudu station in the eastern portion of the city to Zhongnan Jie station in the west, near Suzhou Industrial Park. Metro Line I is the start of a larger subway system in Suzhou. (The city has now also constructed Metro Line II, which travels north and south.)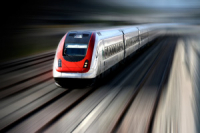 "The Metro Line I is the first Metro Line in Suzhou, which goes from west to east, connecting two economic development zones and the downtown," Gary Zhang Zhen Hua said.
More than 150 ProSoft Technology Modbus® 'C' Programmable communication modules were installed in the Metro Line's Building Automation System, which plays a vital role in the underground tunnels and stations that make up the subway. The modules allow Rockwell Automation® ControlLogix® and FLEX™ I/O systems to communicate with and gather data from ventilation systems and air conditioners, as well as monitor the overall environment inside the subway system.
Most people think of a train speeding down an underground tunnel when they think of a subway. A Building Automation System is likely the last thing that comes to mind, but without this critical piece, a subway would not be able to operate.
"The ProSoft Technology solution is a good one," said Jianshui Gan, the Building Automation System engineer working on the Suzhou Metro Line I. "We chose ProSoft Technology's product because they are the communication adapter between field devices and the ControlLogix controller."
Hundreds of thousands of people per day, tourists and Suzhou residents alike, now use the Metro Line to get from one end of the city to the other and avoid automobile congestion. The train rolls on – in part thanks to ProSoft Technology's Modbus modules.
Learn more about ProSoft Technology's in-rack 'C' programmable modules for Rockwell Automation controllers here.