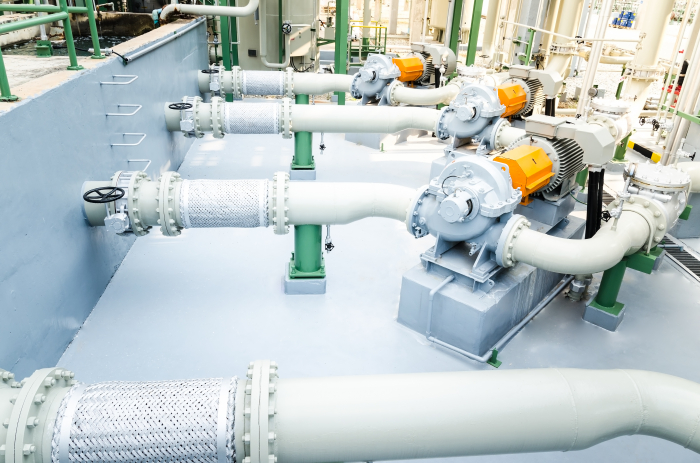 Improve Your Process Application's Data Flow with Next-Generation Solution
Automation across process manufacturing is evolving at a rapid pace. Businesses are increasingly relying on automated systems and workflows to improve quality and productivity, and to reduce risk. Reliable communications and data integrity are keys to this. ProSoft Technology has developed a dedicated networking solution to meet and exceed the data connectivity needs of the most critical automation data networks.
When it comes to process automation, like what we might see in a water and wastewater (W/WW) application, the customer requires network connectivity to all remote assets, no matter where they are geographically located. This network is the operational technology (OT) network and is recommended to be separated by a DMZ from other operational and IT networks. This OT network is the control level of the automation application, which leverages industrial protocols like EtherNet/IP™ or Modbus TCP/IP for mission-critical communications. As such, this OT network has a unique set of requirements with a focus on reliability, data integrity, and cybersecurity, while also providing the ability for additional improvements in workflows. The Persistent Data Network, powered by Belden Horizon, was purpose-built for applications just like this.
Network Data Flow
The OT network facilitates the data flow in the modern SCADA (Supervisory Control and Data Acquisition) systems often used in W/WW applications. These SCADA systems allow users to monitor and control various remote functions in the process.
In the past, networking technologies have forced engineers to define a geometric arrangement of nodes and links to establish the OT network. For example, engineers would have to choose between point-to-point, point-to-multipoint, or multipoint-to-multipoint topologies based on the requirements of each individual site. Each of these topologies come with a unique set of considerations that creates challenges during the design, implementation, and even the lifecycle of network.
During the design phase, complicated and lengthy RF studies are required to determine the best architecture and antenna location based on the location of the remote sites, the environment, and the priority of each individual site.
Based on information collected during the design phase, the installation phase may require the erection of towers to mount antennas, or they may require a high number of hops between nodes to reach remote sites, or they may require multiple radios at a specific site to establish a multipoint connection.
During the lifecycle of the application, antennas become misaligned or damaged due to the environment, resulting in lost links and disconnected remote sites.
The Persistent Data Network, powered by Belden Horizon™, was engineered to overcome these challenges, and to simplify the network infrastructure while still providing the point-to-point, multipoint, and redundancy requirements of modern process networks. The following diagram illustrates the data flow in a PDN application:
You can see in this diagram that each site is capable of both point-to-point (master-remote) and multipoint (peer-peer) topologies. However, with PDN these topologies are automatically configured, ensuring the SCADA system and all remote sites have connectivity and access to the data they need. The following diagram illustrates the new simplified topology:
You can see in this diagram that all of the PDN connections are managed by the Belden Horizon engine.
Persistent Data Network – Powered by Belden Horizon
The Persistent Data Network (PDN) is a simple, secure, and managed smart remote infrastructure communication network, designed to connect geographically dispersed industrial assets. PDN is a complete networking solution for industrial telemetry networks.
The PDN network is managed and enabled by the Belden Horizon platform. Belden Horizon is the engine that ProSoft and our parent company, Belden, developed to meet the security, uptime, and ease-of-use requirements for high-reliability industrial data networks.
Since Belden Horizon manages the PDN network, there is no need to work to define a topology for the application. To create a PDN network, simply install a ProSoft cellular gateway (which are packaged with SIM cards and cellular connectivity from the factory) at each of your remote sites, along with a network bridge at your SCADA system. Then, connect those gateways to your secure Belden Horizon account.
Deploying modern telemetry networks with the Persistent Data Network has never been easier. Discover the next steps in this application guide!