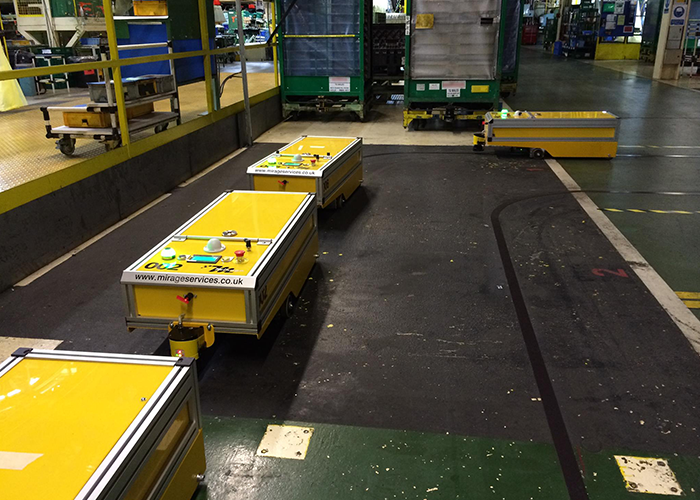 Automating parts delivery in an automotive plant – with some help from AGVs and wireless radios
As anyone who has ever tried to narrow down an unclear issue with a vehicle knows, automotive parts are many and varied – and that's after they've been fully put together. In the manufacturing process, many smaller parts go into the finished product. And in any industry – automotive especially – speed on the assembly line is economically crucial.
The movement of those parts on the plant floor is closely watched and handled given their value. One major automotive manufacturer was looking to make a more efficient change, though: They had a worker manually pushing a dolly containing parts, and were hoping to automate that work.
The end user reached out to Mirage Ltd., based in Stoke-on-Trent, England. Mirage designs and builds bespoke machinery and automated solutions. Their solutions include Autonomously Guided Vehicles (AGVs), jigs and fixtures, control panels and software solutions, conveyors, and mechanical handling equipment, with poka-yoke mechanisms built-in. Poka-yoke is a Japanese phrase that means "mistake-proofing." In a lean manufacturing process, this feature essentially helps operators avoid lasting errors. It is an integrated part of many of Mirage's solutions.
For more than a decade, Mirage has specialized in lean manufacturing and factory automation solutions for several industries, including automotive. The firm's knowledge of the automotive industry and materials handling was especially key for this application.
AGVs are a cost- and time-effective alternative to manual transportation throughout a location, but key to their successful implementation is a wireless network whose speed can keep up with the constantly moving machines. Mirage needed to come up with a communication solution that would link the AGVs to a master control panel. An alternative solution – wireless RS232 communications over a radio link – did not work out: Mirage noted the Modbus® communications were slow and time-consuming to implement.
"The need for simplified configuration led us to ProSoft Technology," said Adam Tatton, Director at Mirage.
"ProSoft's Industrial Hotspot radios allowed the end user to use their own PLC," Mr. Tatton said. "This meant the end user was now able to use a corresponding specialist HMI screen, which allowed them to improve production. Meanwhile, the use of Ethernet radios saved Mirage configuration time by eliminating the need for Modbus commands. ProSoft's support throughout the application was also a plus," Mr. Tatton said.
"Mirage had to lower the AGV to accommodate the dollies and space was at a premium," said ProSoft Regional Sales Manager Myles Heinekey.
"To help support this AGV modification, we selected a lower-profile OMNI antenna with MIMO and loaned the antenna to them to see if that would help.That type of local technical and sales support and demonstration of the solution was a key factor in opting to use ProSoft's solutions in the application," Mr. Tatton said.
With this setup, the AGV starts by driving under the dolly with parts for vehicle assembly. The parts are dropped off at the assembly line before the AGV returns in a loop to the collection point to drop off the empty dolly and pick up a new one. The radios, meanwhile, are constantly sending diagnostic and location data to the main control panel. That live program monitoring has improved commissioning and speeded up system integration on site.
In addition, the software complexity for this solution has been reduced from the alternative setup, making it easier to use and program. Data volume has also been reduced, and the reduced engineering time has helped decrease manufacturing costs.
To learn more about services provided by Mirage, go to https://www.mirageservices.co.uk/
You can find additional information about ProSoft Technology's Industrial Wireless solutions at http://psft.com/CHT