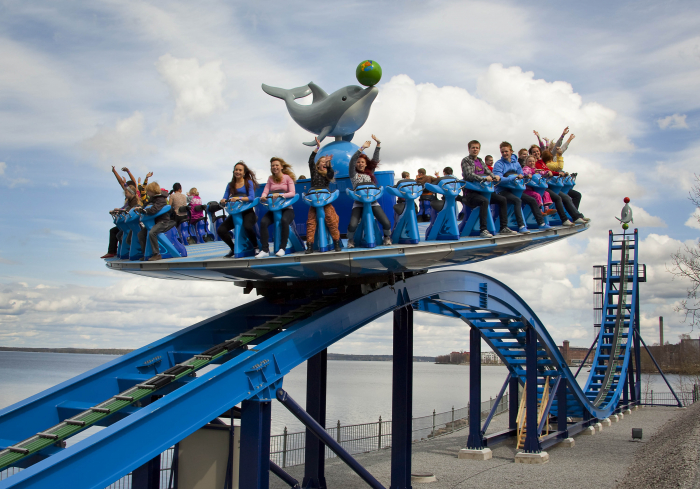 A communications upgrade for the ultimate thrill ride
Antonio Zamperla SPA, a major theme-park attraction company whose rides can be experienced worldwide, offers something for everyone: coaster-lovers of all ages and their less thrill-seeking friends. Even for the former group, the Disk'O Coaster is surely an adventure: It essentially rocks and spins riders who sit in pedestal seats that face outward, offering a visual smorgasbord while speeding along a 300-foot (100-meter) track at up to 43 miles per hour (70 km/h). All in all, it's a ride for which you'd want to have as many safety checks as possible.
Three years ago in Altavilla Vicentina, Italy, Zamperla started conducting testing to make the Disk'O Coaster even safer. They had been using a non-Safety I/O PLC with a more conventional Bluetooth wireless system that was based on standard OMNI antennas. Different solutions were considered, and Zamperla eventually decided to opt for a setup involving a Rockwell Automation CompactLogix™ L43S. That solution also involved the communications implementation of ProSoft Technology's Industrial Hotspot Ethernet radios for safety I/O, along with a Power DC and PowerFlex™ 7S drive on the remote side of the solution.
The main goal in the new communications system was to replace the previous Bluetooth communication setup, incorporating distributed Safety POINT I/O™. The Safety POINT I/O™ was used on board the ride to monitor the safety belts and the doors of the coaster. ProSoft's radios also increased reliability and throughput, working in conjunction with the CompactLogix to provide a smooth, safe ride for thrill-seekers.
"The Industrial Hotspot radios have helped improve the communications system," according to Fabio Berti, chief engineer for Zamperla. The radios support fast RF data rates up to 300 Mbps, delivering great packet-per-second performance and ensuring reliable communication. The company also appreciated being able to monitor the radios' performance and status using an HMI, thanks to diagnostic tags. Between the system performance and ease of use, Zamperla saw that ProSoft's radios within a Rockwell Automation infrastructure offered a solution that was too good to pass up.
"The goal was to improve the efficiency and the security of the application," Mr. Berti said. "Thanks to ProSoft's wireless Ethernet-based solution, it is possible to use Safety I/O and improve the data rate of communication, satisfying Zamperla's needs."
Learn more about solutions for Amusement applications. For more information about A. Zamperla S.p.A, visit www.zamperla.com