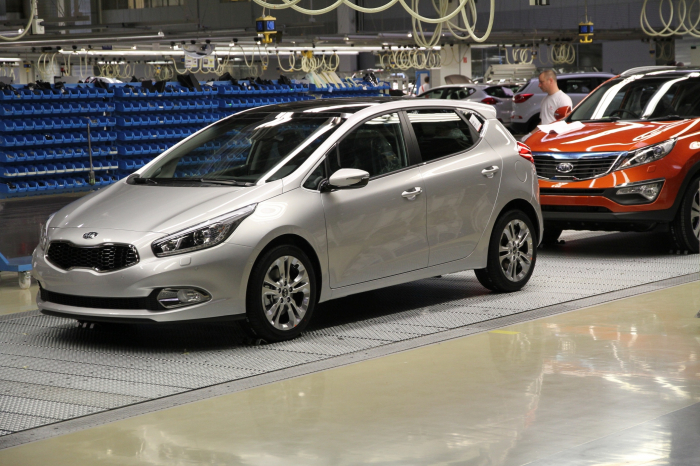 KIA Motors utilizes ProSoft Technology wireless solution to monitor overhead cranes
Crane maintenance is "simplified" at a KIA Motors plant with ProSoft Technology wireless solution.
The KIA Motors plant in Slovakia, which produces the cee'd, KIA Venga and Sportage, decided to install industrial wireless solutions at its automobile stamping and press operations to further improve safety at the plant for employees. Cranes transfer stamping dies to the main press lines. Here is where parts such as doors, fenders and hoods are produced.
"It was necessary to connect the overhead cranes to one network to be able to access the PLC from any maintenance computer in the Auto Press shop", said Tomas Potocar, Engineer with KIA Motors.
The purpose of the project was to communicate from the maintenance room to Allen-Bradley® ControlLogix® controllers.
"The overhead cranes were separate devices without any connection to computers used by the maintenance department", Mr. Potocar said. Because of this, engineers had to climb up 14 meters of stairs or a ladder to access the crane controller to connect it directly to a processor for diagnostics.
"Only if the crane is in 'home' position near the step, then the maintenance guy could get to its cabinet in 10 minutes. Now it's possible to get an access from the maintenance room immediately", said Josef Nekvinda, engineer with Rockwell Automation®. Cranes now can be accessed from the maintenance computer at any stage with the ProSoft Technology wireless solution. This results in much less downtime.
With ProSoft Technology's wireless solution, one 802.11n radio is on each of the 5 cranes, with a radio in the maintenance room. KIA Motors is satisfied with the solution. "It helps us diagnose overhead cranes and monitor signals during the production from a safe position."