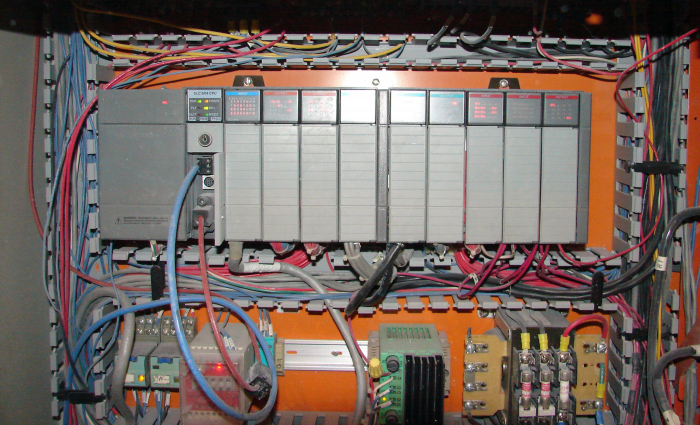 Need to Keep Your SLC 500 in Place? We've Still Got Some Modules that Can Help
With the announced discontinued date of March 31, 2024, for all of the remaining Rockwell Automation SLC™ 500 controllers, we will see the end of an era for a Small Logic Controller first released in 1991.
As a young electronics student, my first introduction to PLCs was in an automation class in college back in 1994 using an SLC 100 processor with an SLC 150 expansion unit, all programmed using the handheld keypad programmer. After struggling through using the handheld programmer for three-quarters of the class, towards the end of the class we finally got to get our hands on the newer SLC 500 using the PC-based Advanced Programming Software (APS).
To my delight after college, my first job as a maintenance technician used all SLC 500 processors. By then, RSLogix 500® was around, and from there a career in automation was born.
Fast forward 30-plus years later, my high school recently held a 30-year reunion; I've spent the better part of 26 years and counting working in industrial automation; and after an amazing run for the SLC 500 platform, the end is in sight. But while the end is near for a platform that many of us have cut our teeth on in the automation industry, there are so many advantages to newer platforms and so many ways of migrating that the end does not have to be such a scary situation.
For starters, ProSoft Technology made communication modules for the SLC 500 processor line. While our MVI46 platform is designated as limited availability or end of life itself, we do have limited quantities of modules available to help customers who really need to keep their SLC 500 system around for just a little while longer while you figure out a permanent migration strategy.
For customers who have a migration strategy that consists of going to a new hardware platform such as CompactLogix™, but need to keep some legacy communication networks around like Modbus, DF1, DH+™, Allen-Bradley® Remote I/O, ControlNet, DeviceNet, or DH485, you're in luck: We have solutions for that as well to allow for migration of legacy networks to newer automation platforms.
So, although we are approaching Halloween, the scariest time of the year, the end of life of your SLC 500 processor and the migration to a new platform does not have to be a scary situation. Reach out to ProSoft Technology for help in migrating your SLC processor to newer platforms that can hopefully have another 30-plus-year run like the SLC 500 did.