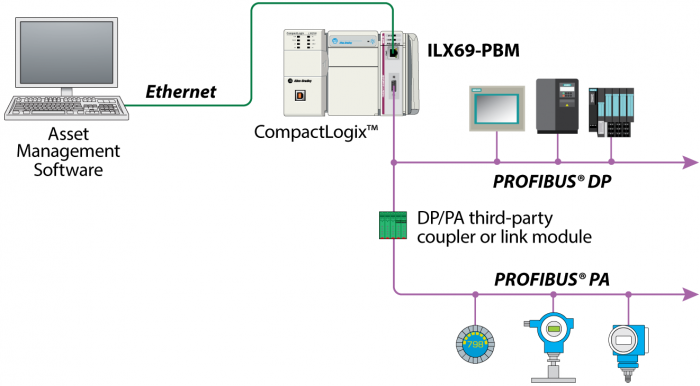 Do you have a PROFIBUS PA network that needs to be connected to your PLC?
Did you know you can use ProSoft Technology's PROFIBUS DP Master Solutions in association with a DP/PA coupler to connect your PROFIBUS PA devices to your control network? The DP/PA coupler (aka DP/PA gateway) enables intrinsic connection to electrically isolate the PA devices from a DP network.
There are two types of these gateways - transparent and non-transparent. The main differences between the two are:
- The transparent gateway is not seen by the PROFIBUS master. It requires the network to be connected at 45.45kpbs, since that is more convenient for process automation.
- The non-transparent gateway is seen as a node on the PROFIBUS network, and requires a specific configuration tool to combine all the PA devices' GSD files.
The PA devices are not directly accessible by the PROFIBUS master and can run as fast as 12Mbps on the PROFIBUS DP network, allowing the use of a single network for DP and PA communication.
If you have ControlLogix®, CompactLogix™, or Quantum™ PLCs, our in-chassis modules can connect to your DP and PA devices using FieldCare, Pactware, Unity, or any other comDTM-compatible managment system for configuration, diagnostics, or control.