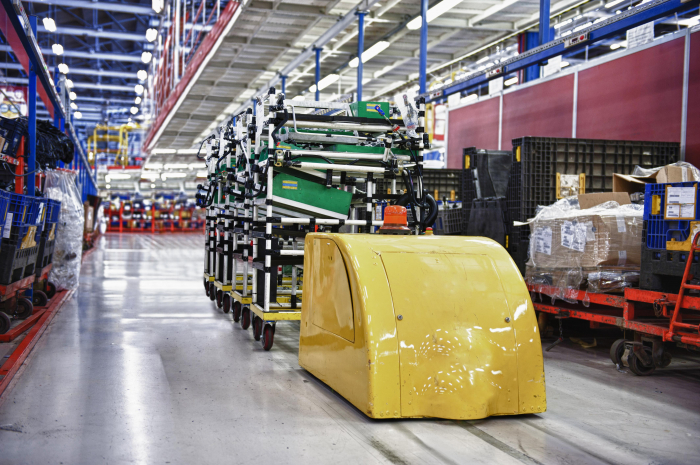 Improving Robotic Carriers' Connectivity in Logistics Applications
The rise of fast shipping guarantees has made distribution centers busier hubs than ever in the past few years. And the pandemic's increased online shipments and an overall spike in demand for many goods have now made logistics applications are busier than ever.
Many distribution centers use automated robotic carriers to quickly move items through the facility. These carriers are major investments that can deliver even bigger ROI, but reliable networking between them and the facility's central control system is crucial. Connectivity that's designed for industrial, robust environments can help decrease the accidents, downtime, and late shipments that loosely monitored carriers can cause.
In this blog post, we'll take a look at how these robotic carriers are connected to control systems, and how to ensure reliable communications in your distribution center.
Connecting Robotic Carriers
In the distribution center, a variety of robotic carriers will typically be connected to a PLC that's part of the facility's automation infrastructure. The carriers can include automated robots or guided vehicles (AGVs), and will oftentimes have automation equipment onboard, such as a compact PLC, drive, sensors, or I/O.
The carriers will also feature a radio facilitating wireless Ethernet connectivity. It's important in any application involving moving equipment that these radios be designed for industrial use, instead of using a commercial wireless product. Industrial radios:
∙ Are more robust
∙ Support the precise timing of real-time data
∙ Can be integrated with your control system
∙ Can be used in tandem with functional safety protocols
∙ Can support ultra-fast roaming
These attributes are especially key for logistics facilities, including distribution centers. The facility's PLC needs to continuously communicate with the robotic carriers so it can send them control information such as where to go, what to pick, and where to take it in the distribution center. That information needs to be transmitted quickly and reliably to each robotic carrier.
The carriers' radios should also be set up to connect to each other, with client repeater radios also placed strategically in the facility. This real-time connectivity ensures the carriers know, for instance, where other carriers are so they can be accordingly rerouted. (Any company wants to avoid the collisions that can occur when this data isn't reliably sent among carriers and the central PLC.)
Safety needs to be considered in any facilities that feature people working in-house, such as at the operator station, where packaging may take place. Safety can be satisfied through the carriers' local proximity sensors, and requires that constant link between each carrier and the automation infrastructure. Another option is to layer a functional safety protocol (such as CIP Safety) over your wireless network, seamlessly connecting each carrier's PLC to the facility's central control system.
Lastly, the speed at which this connectivity occurs needs to be as fast as possible to ensure reliable communications. ProSoft's industrial radios enable clients to autonomously roam in less than 10 milliseconds, with no dropped packets. This helps ensure seamless movement throughout the distribution center.
Seek Expert Help
Determining the radio types, placement, and other considerations behind a well-designed industrial wireless network for your distribution center isn't akin to home connectivity equipment like extra routers. When determining what you need now, what you may need later, and how it can all connect most effectively, you'll likely need help.
Find a trusted vendor to provide professional support that will help make your communications network a success. This can include the system's design; site surveys before and after installation; training; installation support; and other services. This support can help you make sure you have the information you need to ensure long-term success. (Looking for help? We know the best global support team.)
Contact us to learn more about wireless solutions for automated logistics applications.