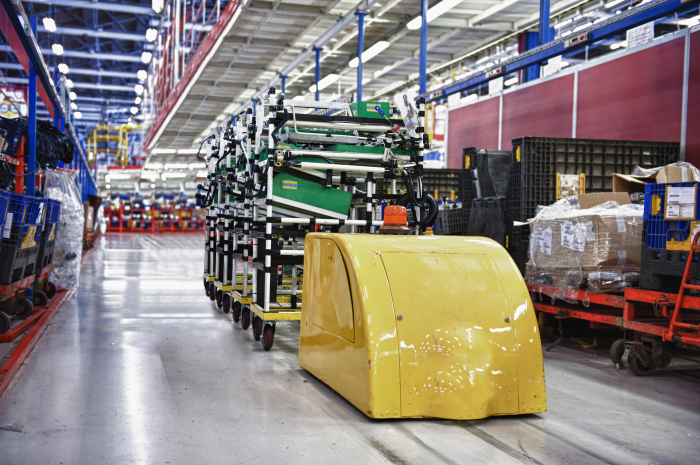 Consider the Benefits: Wi-Fi 6 for Automated Material Handling Applications
The demands placed on logistics facilities in the past few years especially have increased the need for high-speed movements within these busy fulfillment hubs. Consumers now expect shipments fairly quickly after ordering – part of "the Amazon effect" that's emerged in recent years.
Many logistics and material handling facilities rely on reliable wireless communications to ensure that these shipments are distributed as quickly as possible. Wireless connectivity is preferred since new radios can be added to the existing network relatively easily as more equipment (like automated guided vehicles, or AGVs) is added. Wireless radios also enable reliable communications for typical logistics setups including automated storage and retrieval systems and conveyance lines.
5G or Wi-Fi 6?
On a commercial level, 5G is perceived as a major new technology for communications. However, it's not yet ready for the ultra-reliable, low-latency private communication that logistics and material handling applications require. Low latency is a must for logistics facilities, which require it for applications involving CIP Safety or moving equipment. The chips for these industrial-built 5G solutions can be costly and hard to come by as well.
With that in mind, 5G isn't a readily accessible or cost-effective option at the moment for material handling and logistics centers' wireless networks. Wi-Fi remains a great option for these applications, though, with the newest update – Wi-Fi 6 – being especially ideal for industrial facilities. The chips are readily available as well. The addition Wi-Fi 6E also features a 6 GHz frequency band that supports up to 60 channels, a change for the technology and an ideal update for material handling facilities in terms of how much data can be communicated.
Its setup, management, and available frequencies also make Wi-Fi 6 a great alternative to 5G for these applications:
· Outside support and management are more available for Wi-Fi technology, which is ideal for design, installation, and troubleshooting concerns that in-house personnel may need help with. This support is harder to come by for 5G and even some 4G applications.
· Wi-Fi uses public frequencies that are available everywhere, with guidelines that that ensure the frequency isn't dominated or a connection isn't interfered with. 5G primarily uses licensed frequencies, which offer more control – but typically require more support.
Both of these options provide the reliable connectivity that material handling facilities need. However, with 5G's availability concerns, Wi-Fi 6 is an ideal choice for these high-speed industrial applications.
Learn more about industrial wireless connectivity solutions.