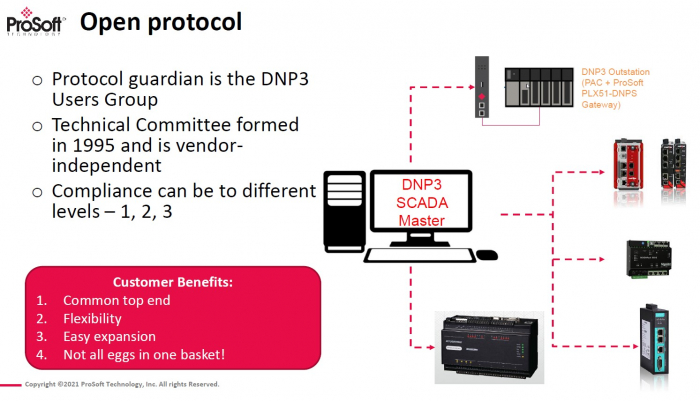 Tutorial: Your Guide to DNP3
The DNP3 protocol is something of a superstar for industrial applications: Its use can help you obtain reliable data from remote sites, and that information can be stored locally, ensuring no data loss.
During a webinar last month, Strategic Product Manager Vishal Prakash offered a deep dive into DNP3 and its benefits for process applications. Today, we're sharing three key takeaways from his presentation:
∙ Benefits for utilities: These critical infrastructures require reliable data collection, which makes DNP3 a top protocol for utilities' operations. (Unreliable data can negatively affect utilities' efficiency and ability to predict maintenance.) In addition, DNP3's status as an open protocol allows for vendor flexibility, and streamlined expansion as the needs of the utility change. Lastly, DNP3 allows for a multi-layered approach to security, a key point for many utilities.
∙ Increased data integrity: This is a major benefit of using DNP3. Locally stored and time-stamped data allows you to avoid incomplete data from field devices, helping you provide accurate regulatory reporting, as well as assisting with predictive maintenance. This data can also help in performing a root cause analysis about any issues that may occur on site.
∙ Prioritized event data: Event-based DNP3 data can be received based on its class (1, 2, 3). Class 1 represents high-priority data such as alarms, and is usually an unsolicited report due to its time-sensitive nature. Class 2 conveys data such as set points or a status change, and Class 3 communicates calculated, average, or accumulated values. Each object can be assigned to a different class, with the user controlling which priority an object receives. The data for each class type is time-stamped and stored locally, which are both major advantages of DNP3.
Watch the full tutorial to learn more about DNP3's benefits: