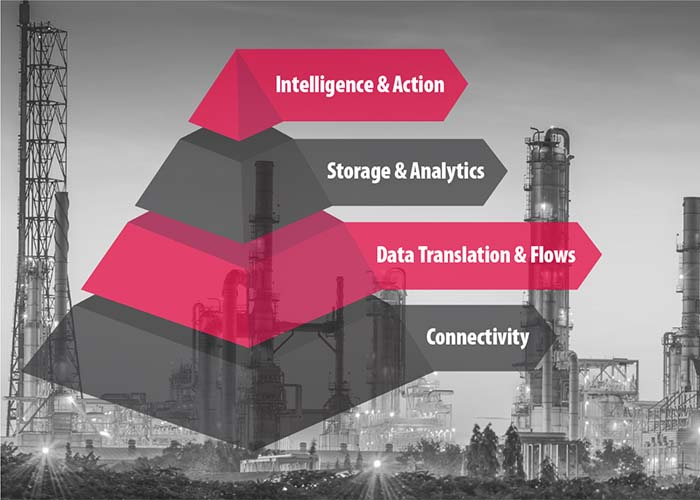 4 Steps to Refining Your IIoT Data
"Data is the new oil. It's valuable, but if unrefined it cannot really be used."
- Clive Humby, U.K. Mathematician, 2006
We know you've heard of the Industrial Internet of Things. And you've probably heard that your data is what can help you gain value from it. This is true – but with the caveat noted above by Mr. Humby. While your equipment's data can bring benefits, that's not an overnight process – much like the work involved in preparing oil.
So why are companies around the world going through these steps? Well, the benefits are major: This data can help you increase efficiency, improve production, predict maintenance, and more. Here's a guide to the steps you have to take with the data first, though:
Connecting equipment. This initial step is similar to the production of oil – the first step in refining what will eventually be a valuable commodity. Much of your equipment has plenty of information – from your building automation devices to your barcode scanners. The initial wrinkle in collecting that data is connecting your disparate devices. Most facilities have a mix of OEM components – and thus protocols. Adding communication gateways can help connect equipment in real time.
Transmitting data. You've connected your equipment and collected that rich data – and now you need to send it to an accessible location, a more high-tech version of oil transportation. The gateways can send it directly to your controllers, which can transport the data via OPC UA to your secure MES or ERP system.
Storing and analyzing data. In both oil production and data collection, this stage involves the refining of product on a few levels. In your IIoT strategy, this step ensures that you can compare and contrast data from your equipment to recognize trends (especially those that you'd rather put an end to). Your MES or ERP system can store this historical data for analysis. The number of aspects you can study may seem overwhelming, so some companies might want to focus on their top objectives and move down the priority list from there. For some facilities, that may involve studying backlog levels; for others, energy usage and costs may be a high priority. Study the data to identify where changes can occur.
Taking data-based action. In the oil refining process, this is the best stage: The product can be used. And this will probably be the most fulfilling part of your IIoT journey. Make sure to retain past data so you can show the measureable difference after putting changes into place. Did you identify inefficiencies in getting product out the door? Test a change in the process and see how your production improves. Found out that energy equipment is running at a high level when it doesn't need to be? Adjust levels and note the change. You may see only incremental change in some areas – in that case, consider a new action that could help produce the desired result.
Every facility has its own unique targets to hit, but implementing a thorough process can help tie improvements back to your IIoT investments, and create a truly connected operation that will continuously show its value.
Learn about your next IIoT steps here.