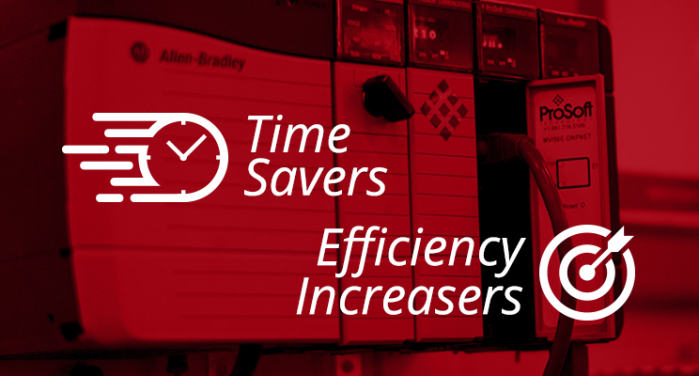 How You'll Benefit from Add-On Profiles and Add-On Instructions
The inclusion of Add-On Profiles and/or Add-On Instructions can help you avoid prolonged configuration and some serious frustration.
These features are included in most ProSoft in-chassis and gateway modules for Rockwell Automation® applications, and today we're looking at why they're important – and how you'll benefit from them. We talked with Erik Syme, Director of Program Management at ProSoft, to get all the details.
Add-On Instructions
Let's start with what's in store for you without an Add-On Instruction (AOI).
When implementing your module into the application, you'd be looking at importing hundreds of rungs of code. We know, it already sounds fun as is, but then imagine if there was an error in one – get ready to go back through and find it, rung by rung.
The addition of the Add-On Instruction allows you to avoid endless importing and checking. It's essentially a bunch of code rolled into one instruction. You import the one file, you link it to the module, and it's ready to go.
Using an AOI helps eliminate errors within your application. In addition, Syme notes, if ProSoft adds functions or features to the existing module, the user can quickly replace the AOI to gain the update.
Add-On Profiles
Add-On Profiles (AOPs) also help you save time – by using tools within your existing Rockwell Automation architecture.
The AOP allows your solution to look like a Rockwell Automation module, and be defined in the I/O tree as such. It allows you to simplify adding the module in Studio 5000®, decreasing your configuration time.
Customized Options
ProSoft is now including the option for custom AOIs in some products, Syme said.
"This still eliminates potential errors, but it also allows someone to generate all their code for, say, a PROFIBUS application in our configuration builder, then transfer that completed custom AOI," he said.
The time saved with a custom AOI is significant, too: Syme noted that for a recent module, the custom AOI helps reduce work that used to take about a week to 4 hours.
Contact us to learn more about Add-On Profiles and Add-On Instructions for ProSoft modules.