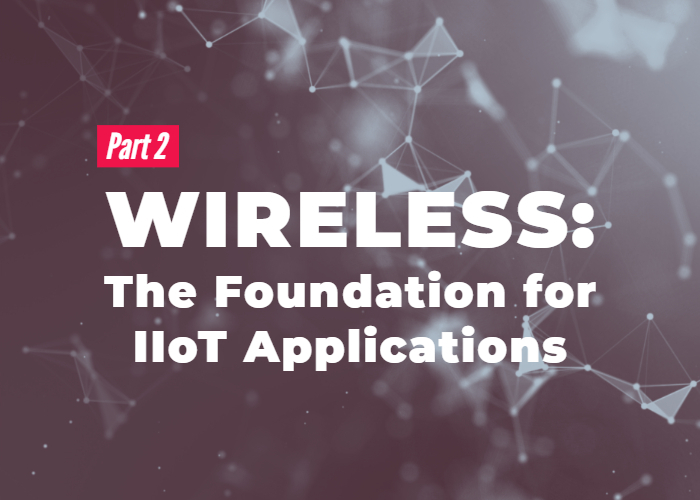 Wireless: The Foundation for IIoT Applications
By Lauren Robeson Menting
In Part 1 of this series, we looked at how devices connected via industrial wireless Ethernet can help improve life at home and boost efficiency within industrial applications.
In the case of the latter, the Industrial Internet of Things provides a new level of connectivity that most companies have just started to realize in the past 10 years. Even in that short time span, the ways in which application data can be collected – and the technology involved – have grown in leaps and bounds. In 2029, there'll likely be commonplace capabilities that we can't conceive of now.
The first step in realizing IIoT benefits is connecting equipment, and wireless Ethernet plays a major role in that. This technology is key in most applications, with low installation costs:
In discrete manufacturing, production cells are becoming connected over wireless Ethernet, increasing efficiency.
In process manufacturing and water and wastewater applications, remote sites are increasingly connected over cellular technology, ensuring real-time data transfer and the ability to remotely monitor sites.
In several industries, sensors are connected across the application over wireless I/O, a connection that used to require cable (and time to install it).
Real results
The rise in this technology has led to process changes that can be leveraged to improve businesses' position. Wireless can enable IIoT in industrial applications, helping you realize several benefits:
Saved time: Eliminating the need to set up and maintain wired communications helps avoid downtime. The scalable nature of wireless also means that expanding your network later doesn't derail production. Wirelessly connecting into equipment also helps save time for your workers, and keeps production moving.
Reduced CapEx: A connected site with reliable components helps you avoid the need for additional parts and maintenance that used to be considered par for the course for wide-ranging applications. The ability to use wireless in areas where accessibility has proven to be an issue allows you to avoid costly overhauls or redesigns of your application.
Reduced risk: The reliability of wireless Ethernet is a key differentiator when you need to track the movement of valuable assets in your operation. In some applications, the adoption of wireless solutions can help improve safety and reduce downtime risk thanks to real-time data transfers.
Improved quality: Wireless technology paired with connected equipment can help identify inconsistencies in your production line. In the automotive industry, where mobile equipment requires wireless communications, companies are able to improve the quality and production of vehicle models. The nature of the IIoT-based infrastructure coupled with wireless ensures there's plenty of data to access and analyze – which helps continuously boost quality and efficiency.
This is Part 2 of a five-part series focused on wireless connectivity and its effect on industry. Next up: How wireless LAN supports IIoT applications. Check out the first installment below, and subscribe at the box to the right to make sure you never miss this series!
- Part 1: How Connected Are You?