Automation Fair®, Booth #1317: MVP Tips for Your Applications, Prizes, and More!
Learn More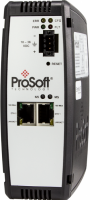 EtherNet/IP™ to PROFINET® Gateway for dual subnets
PLX32-EIP-PND
The EtherNet/IP to PROFINET device gateway offers bi-directional data transfers between a PROFINET Controller and EtherNet/IP networks. The PLX32-EIP-PND gateway is a stand-alone DIN-rail mounted unit that provides two Ethernet ports, with each port using a different subnet.
The onboard SD Card slot (SD card optional) is used for storing configuration files that can be used for recovery, transferring the configuration to another gateway, or general configuration backup. The EtherNet/IP Driver uses Class 1 I/O connections or Class 3 Message instructions. The PROFINET driver operates as a PROFINET Class A device.
Features and Benefits
ODVA Approved
PROFINET v2 certification with PROFINET Class A compliance
EtherNet/IP and PROFINET certifications ensure the device is compatible with their respective network
Field-tested with multiple PROFINET controllers from multiple vendors
Remotely view and diagnose EtherNet/IP and PROFINET networks
Embedded EDS AOP provided to allow for seamless integration to Studio 5000 and RSLogix 5000
Using EtherNet/IP I/O connections, no ladder programming is required
Multiple I/O connections to allow for increased throughput
Specifications
EtherNet/IP™ Specifications
Specification

Description

Number of Class 3 Server Connections

5

Supported PLC Types

PLC2, PLC5, SLC, CLX, CMPLX, MICROLX

Supported Message Types

PCCC and CIP

Class 3 Client Connections

Connected - 2

Unconnected - 1

Number of Class 1 I/O Connections

8

I/O connection sizes in/out

496/496 bytes

Max RPI time

5 ms per connection

CIP Services Supported

0x4C - CIP Data Table Read

0x4D - CIP Data Table Write

Command List

Support for 100 commands per Client, each configurable for command type, IP address, register to/from addressing and word/bit count.

Command Sets

PLC-2/PLC-3/PLC5 Basic Command Set

PLC5 Binary Command Set

PLC5 ASCII Command Set

SLC500 Command Set
PROFINET Specifications
Specification

Description

Driver Type

Class A Device

PROFINET I/O Data

1440 bytes IN, 1440 bytes OUT

Exchange Types

Cyclic Real-time (RT) and Acyclic Data
Environmental
Specification

Description

Power Supply

24 VDC nominal
10 to 36 VDC allowed
Positive, Negative, GND Terminals

Current Load

24 VDC nominal @ 300 mA

10 to 36 VDC @ 610 mA maximum

Operating Temperature

-25°C to 70°C (-13°F to 158°F)

Storage Temperature

-40°C to 80°C (-40°F to 176°F)

Relative Humidity

5% to 95% RH with no condensation

Shock

IEC 60068-2-27; 15G @ 11ms, 3-Axis (Operational)

IEC 60068-2-27; 30G @ 18ms, 3-Axis (Non-Operation)

Vibration

IEC 60068-2-6; 5G @ 10Hz to 150Hz

Dimensions
(H x W x D)

5.38 x 1.99 x 4.38 in
13.67 x 5.05 x 11.13 cm

Ethernet Ports (2)

10/100Mbit RJ45 Connector Electrical Isolation 1500 Vrms at 50 Hz to 60 Hz for 60 seconds, applied as specified in section 5.3.2 of IEC 60950: 1991
Ethernet Broadcast Storm Resiliency = less than or equal to 5000 [ARP] frames-per-second and less than or equal to 5 minutes duration

Shipped With Each Unit

2.5 mm screwdriver
ProSoft Solutions DVD
J180 Power Connector

5' straight-through Ethernet cable