Automation Fair®, Booth #1317: MVP Tips for Your Applications, Prizes, and More!
Learn More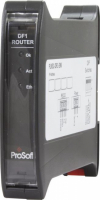 DF1 Routing Module
PLX51-DF1-ENI
Wondering what you'll do now that Rockwell Automation has discontinued its legacy 1761-NET-ENI module? ProSoft Technology's DF1 Routing Module can be used in a similar way.
The PLX51-DF1-ENI module provides EtherNet/IP connectivity for SLC™ 500, CompactLogix™ and MicroLogix™ controllers, as well as many other DF1™- enabled devices
The module can be used for messaging between two controllers, uploading and downloading PLC programs, modernizing HMI's, or migrating legacy Honeywell systems.
Features and Benefits
Intelligent routing to ControlLogix or CompactLogix from PLC-5, SLC, MicroLogix controllers SCADA, DCS gateways and more
Direct-to-tag technology simplifies data mapping, reducing configuration time
Secure module configuration via on module switch
Can be used in a redundant ControlLogix system
Built-in packet analyzer for DF1 networks to assist in trouble shooting serial network issues
Specifications
| | |
| --- | --- |
| EtherNet/IP | Description |
| Connector | RJ45 |
| Conductors | CAT5 STP/UTP |
| ARP Connections | Max 20 |
| TCP Connections | Max 20 |
| CIP Connections | Max 10 |
| Communication Rate | 10/100 Mbps |
| Duplex Mode | Full / Half / Auto-Negotiate |
| Auto MDIX | Yes |
| | |
| DF1 | Description |
| Protocol | DF1 Full Duplex, DF1 Half Duplex, DF1 Radio Modem |
| Baud Rate | 1200, 2400, 4800, 9600, 19200, 38400, 57600, 115200 |
| Parity | None, Even, Odd |
| Data Bits | 8 |
| Stop Bits | 1 |
| Error Detection | CRC, BCC |
| Embedded Response | Auto, On |
| Bridge Mode Mapping | Max 20 routes |
| Slave Mode Mapping | Max 20 routes |
| Slave Mode Message Support | PLC-5 Typed Read, PLC-5 Typed Write, SLC Typed Read, SLC Typed Write, PLC-2 Unprotected Read, PLC-2 Unprotected Write, PLC-2 Unprotected Bit Write |
| Scheduled Tag Mode Message Support (Master) | PLC-5 Typed Read, PLC-5 Typed Write, SLC Typed Read, SLC Typed Write |
Hardware
Specification

Description

Enclosure

Plastic

Enclosure Rating

IP20, NEMA/UL Open Type

Dimensions (H x W x D)

101.0 x 22.5 x 120.0 mm

Power Requirements

Input: 10 to 28 VDC,

(70 mA @ 24 VDC / 130 mA @ 10 VDC)

Power Consumption

1.7 W

Power Connector

3-way terminal

Conductors

24 to 18 AWG

Temperature

-20°C to 70°C

Earth Connection

Yes, terminal based

Emissions

IEC61000-6-4

ESD Immunity

EN 61000-4-2

Radiated RF Immunity

IEC 61000-4-3

EFT/B Immunity

EFT: IEC 61000-4-4

Surge Immunity

Surge: IEC 61000-4-5

Conducted RF Immunity

IEC 61000-4-6