Automation Fair®, Booth #1317: MVP Tips for Your Applications, Prizes, and More!
Learn More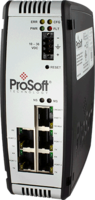 PROFINET® Device to Modbus® Serial Gateway with four serial ports
PLX31-PND-MBS4
The PROFINET device to Modbus Serial gateway offers bi-directional data transfers between a PROFINET Controller and Modbus serial (RTU and ASCII) devices. Each Modbus serial port can be configured as either a Modbus master or slave. The PROFINET interface operates as a PROFINET device (slave).
The PLX31-PND-MBS4 gateway is a stand-alone DIN-rail mounted unit that provides Ethernet connectivity for network communications, remote configuration, and diagnostics. The onboard SD Card slot (SD card optional) is used for storing configuration files that can be used for recovery, transferring the configuration to another gateway, or general configuration backup.
Features and Benefits
PROFINET v2 certification with PROFINET class A compliance
Field-proven with thousands of Modbus serial devices, and multiple PROFINET controllers from multiple vendors
Remotely view and diagnose Modbus and PROFINET networks
Remote configuration via the free, intuitive, ProSoft Configuration Builder (PCB) software
Each Modbus serial port supports master or slave mode
Specifications
PROFINET Specifications
| | |
| --- | --- |
| Specification | Description |
| Driver Type | Class A Device |
| PROFINET I/O Data | 1440 bytes IN, 1440 bytes OUT |
| Exchange Types | Cyclic Real-time (RT) and Acyclic Data |
Modbus Serial Specifications
Command List

Up to 100 commands per master port, each fully configurable for Function Code, slave address, register to/from addressing and word/bit count.

Supported Modbus Function Codes

1: Read Coil Status

2: Read Input Status

3: Read Holding Registers

4: Read Input Registers

5: Force (Write) Single Coil

6: Preset (Write) Single Holding Register

15: Force (Write) Multiple Coils

16: Preset (Write) Multiple Holding Registers

22: Mask Write Holding Register (slave only)

23: Read/Write Holding Registers (slave only)

Software configurable communication

parameters

Baud rate: 110 baud to 115.2 kbps

Parity: None, Even, Odd
Data Size: 7 or 8 bits
Stop bits: 1 or 2

RTS on/off delay: 0 to 65535 milliseconds

Modbus Modes: RTU with CRC-16 or ASCII with LRC error checking

Floating Point Data supported, support for Enron and Daniel

Polling of Command List

Configurable polling of command list, including continuous and on change of data

Status Data

Error codes available on an individual command basis. In addition, a slave status list is maintained per serial port

Node Address

1 to 247 (software selectable)

RS Interface

RS232, RS422, and RS485
Hardware Specifications
Specification

Description

Power Supply

24 VDC nominal
10 to 36 VDC allowed
Positive, Negative, GND Terminals

Current Load

24 VDC nominal @ 300 mA

10 to 36 VDC @ 610 mA maximum

Operating Temperature

-25°C to 70°C (-13°F to 158°F )

Storage Temperature

-40°C to 80°C (-40°F to 176°F )

Relative Humidity

5% to 95% RH with no condensation

Shock

IEC 60068-2-27; 15G @ 11ms, 3-Axis (Operational)

IEC 60068-2-27; 30G @ 18ms, 3-Axis (Non-Operational)

Vibration

IEC 60068-2-6; 5G @ 10 to 150 Hz

Dimensions

5.38 x 1.99 x 4.38 in, 13.67 x 5.05 x 11.13 cm (H x W x D)

LED Indicators

For configuration and protocol status errors

Ethernet Port

*10/100Mbit RJ45 Connector Electrical Isolation 1500 Vrms at 50 to 60 Hz for 60 seconds, applied as specified in section 5.3.2 of IEC 60950: 1991
*Ethernet Broadcast Storm Resiliency - less than or equal to 5000 [ARP] frames-per-second and less than or equal to 5 minutes duration

Number of Serial Ports

4

Shipped With Each Unit

2.5 mm screwdriver, ProSoft Solutions DVD, J180 Power Connector, 5' straight-through Ethernet cable, DB9 to Screw Terminal Adapter