Automation Fair®, Booth #1317: MVP Tips for Your Applications, Prizes, and More!
Learn More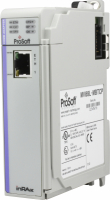 Modbus TCP/IP Lite Communication Module for CompactLogix
MVI69L-MBTCP
The MVI69L-MBTCP Modbus TCP/IP module is ideal for smaller applications that utilize the CompactLogix L2 controllers. The module has an Add-on Profile and an Add-on Instruction to reduce commissioning time.
The MVI69L-MBTCP has a single Ethernet port for diagnostic and application data. It supports both Client and Server connectivity to interface with a variety of devices using the Modbus TCP/IP Protocol
Features and Benefits
Supports CompactLogix processors with 1769 I/O bus capability version 16 and greater (MicroLogix 1500 not supported)
Add-on Instruction creates UDTs, providing logical definitions for I/O, status, and control data
Add-on Profile support, improving integration in the CompactLogix System
Diagnostic data available in processor controller tags, enabling decisions to be made based upon node health
Configuration backed up in CompactLogix project (ACD file)
Module acts as a co-processor reducing impact to PLC scan time
Supports up to 240 words of I/O data
Supports up to 10 Client connections and 2 Server connections (1 each for Server Ports 502 and 2000)
Supports Enron and Daniel style Floating point data implementation
Specifications
Configuration

ProSoft Configuration Builder

I/O Size

240/240 - 16 bit integers

Floating Point Data

Floating point data movement supported including configurable support for Enron, Daniel®, and other implementations

Modbus Function Codes Supported

1: Read Coil Status
2: Read Input Status
3: Read Holding Registers
4: Read Input Registers
5: Force (Write) Single Coil
6: Preset (Write) Single Holding Register
8: Diagnostics (Slave Only, Responds to Subfunction 00)
15: Force( Write) Multiple Coils
16: Preset (Write) Multiple Holding Registers
17: Report Slave ID (Slave Only)
22: Mask Write Holding Register (Slave Only)
23: Read/Write Holding Registers (Slave Only)
Modbus Client
Configured as a Modbus Client, the module actively issues Modbus commands to other nodes on the Modbus network.
Client Connections

10

Command List

Up to 16 command per Client connection, each fully

configurable for function, slave address, register to/from addressing and word/bit count.

Command Control

Configured commands can be controlled directly from ladder logic

Polling of command list

Configurable polling of command list, including continuous and on change of data, and dynamically user or automatic

enabled.

Status Data

Error codes available on an individual command basis. In addition, a slave status list is maintained per active Modbus Client
Modbus Server
Configured as a Modbus Server, the module acts as a node and permits a remote Client to interact with all data contained in the module.
| | |
| --- | --- |
| Server Connections | 2, (1 MBAP and 1 Encapsulated) |
| Status Data | Error codes, counters and port status available per configured server |
Hardware
Specification

Description

Dimensions

Standard 1769 Single-slot module

Current Load

450 mA max @ 5 VDC
Power supply distance rating of 4

Operating Temp.

32° F to 140° F (0° C to 60° C)

Storage Temp.

-40° F to 185° F (-40° C to 85° C)

Relative Humidity

5% to 95% (with no condensation)

LED Indicators

Battery and Module Status
Application Status
Ethernet Port Activity
CFG Port Activity

Eth-1

10/100 Ethernet Port
Used for Debugging and Application Code