Automation Fair®, Booth #1317: MVP Tips for Your Applications, Prizes, and More!
Learn More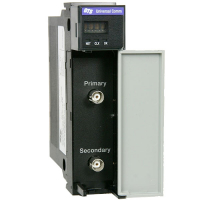 Fisher PROVOX ControlLogix Module
CLX-PVX
The Fisher PROVOX® module allows an Allen-Bradley® ControlLogix® processor to control PROVOX I/O devices. This module allows a phased migration approach to be used when upgrading or replacing the PROVOX controllers. The gateway provides automatic creation of the PROVOX network scan-list and generates the associated RSLogix™ 5000 tags reducing engineering effort. Monitor mode allows verification of your conversion logic using live I/O data without impacting the running legacy system. Once the new PAC is commissioned the legacy I/O can be upgraded one module or one rack at a time as scheduled downtime is available. This module minimizes the risk of excessive downtime when upgrading legacy control systems.
Features and Benefits
Supports PROVOX I/O bus redundancy
Auto-Configuration feature detects the PROVOX network cards and I/O modules, creating a scan-list that minimizes the risk of configuration error
Monitor mode enables testing and verification of the conversion logic before controlling physical I/O, reducing the risk of production loss due to programming errors
Each module supports up to 64 I/O cards
Supports PROVOX 20-Series Control I/O files 1 – 16 and 10-Series I/O with serial buffer card
Auto-Configuration feature maps the PROVOX I/O data into tags in the ControlLogix processor
Supports 250 words of input data and 248 words of Output data transferred on an I/O connection to an Allen-Bradley ControlLogix processor
Diagnostic data is transfered from the PROVOX card to the processor
Configuration software uses RSLinx™ to communicate to the PROVOX module
Add-On Instructions are provided to convert between PROVOX % and CLX real numbers
4 character scrolling LCD display showing module status
A multi-colored LED indicates status of the communications between the PROVOX module and the processor
A multi-colored LED indicates the status of the PROVOX Remote I/O network
Module is hot-swapable
Hardware
| | |
| --- | --- |
| Specification | Description |
| Ports | 1 Primary and 1 Secondary BNC Connector for connecting to the PROVOX network |
| Typical Power Consumption | 675 mA @ 24 Vdc and 5 mA @ 5.1 Vdc |
| Maximum Power Dissapation | 20W |
| Operating Temp | 32°F to 140°F (0 ºC to 60 ºC) |
| Storage Temperature | -40°F to 185°F (-40 ºC to 85 ºC) |
| Humidity | 5% to 95% RH, with no condensation |
Desktop use or DIN Rail Mountable