Simplify your operations - Booth #533 at Automation Fair® 2017
Find Out How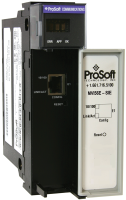 Siemens Industrial Ethernet Communication Module
MVI56E-SIE
The MVI56E Siemens Industrial Ethernet Communication Module allows Rockwell Automation ControlLogix Programmable Automation Controllers (PACs) to interface easily as an Ethernet Client with up to a maximum of 20 Siemens S7-200, S7-1200, S7-300, and S7-400 PLCs operating as Ethernet servers.
The module uses ProSoft Configuration Builder (PCB) which provides a graphical configuration tool for management of module configuration files, as well as viewing communication and module diagnostic information using the high-speed Ethernet port.
Commands are enabled/disabled from ladder logic enabling various Siemens S7 CPUs to support multiple applications without having to reconfigure the module. Data transfer to a ControlLogix ® PAC uses scheduled I/O data for faster updates and better performance.
Features and Benefits
Features

Benefits

Backward Compatibility

All MVI56E Enhanced products are backward-compatible with earlier MVI56 modules, allowing direct replacement without the need to change existing controller programs
Enjoy Enhanced features and flexibility without incurring expensive reprogramming costs

RSLogix 5000 Integrated

Module configuration and communication is integrated within RSLogix 5000
No additional programming or configuration software is required
Add-On Instruction for RSLogix 5000 version 16 or higher cuts development time and costs

CIPconnect®-enabled

ProSoft Configuration Builder software (PCB), with CIPconnect, facilitates remote user access across the ControlLogix backplane through Rockwell Automation's 1756-ENBT or 1756-CNBT modules
Configure, diagnose, and analyze process data and communication status
CIPconnect can bridge through multiple ENBT/CNBT links to connect to MVI56E-MCMs installed in remote chassis for configuration and diagnostics

4-digit LED Display

A scrolling display for easily-understood, plain English diagnostic and error information
See critical configuration and status information without having to hook up to the port

Ethernet Port

Local and remote diagnostics access available through the Ethernet Port
Single-slot 1756 ControlLogix backplane compatible
10/100 Mbps auto crossover detection Ethernet configuration and application port
User-definable module data memory mapping of up to 5000 16-bit registers
CIPconnect-enabled network configuration and diagnostics monitoring using ControlLogix 1756-ENxT and 1756-CNB modules and EtherNet/IP pass-through communication
Add-On Instructions (AOI) are used for data transfer between module and processor
4-character, alpha-numeric, scrolling LED display of status and diagnostics data
ProSoft Discovery Service (PDS) software used to locate the module on the network and assign temporary IP address
Personality Module - A non-volatile, industrial-grade Compact Flash (CF) card used to store network and module configuration, allowing for quick in-the-field product replacement.
Industries that use this technology include:
Power and distribution applications
Petrochemical
Water and Gas Applications
SCADA and DCS applications
Specifications
Specification

Description

Supported PLC Data Exchange
(Read and Write)

Siemens S7-200
Siemens S7-300
Siemens S7-400
Siemens S7-1200

Supported Register Type

DB
Inputs
Outputs
Flags
Counters
Timers
Hardware
Specification

Description

Backplane Current Load

800 mA @ 5 Vdc 3 mA @ 24 Vdc

Operating Temperature

0°C to 60°C (32°F to 140°F)

Storage Temperature

-40°C to 85°C (-40°F to 185°F)

Shock

30 g operational

50 g non-operational

Vibration

5 g from 10 Hz to 150 Hz

Relative Humidity

5% to 95% RH, with no condensation

LED Indicators

Battery Status (ERR)

Application Status (APP)

Module Status (OK)

4-Character Display

Shows Module IP Address

Ethernet Port

10/100 Base-T, RJ45 Connector, for CAT5 cable

Link and Activity LED indicators

Auto-crossover cable detection

Shipped with Unit

5-foot Ethernet straight-through cable