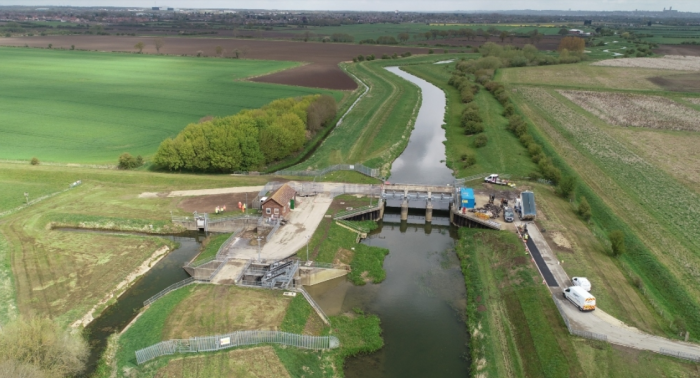 Flood-defense system gains remote monitoring solution
An area in the United Kingdom was in need of a new, futureproof system to help monitor river levels in an area prone to flooding. Thousands of structures would be at risk should heavy flooding occur, and the Environment Agency (EA) that governs the flood-defense system sought a reliable and secure monitoring solution.
The EA is tasked with preparing for severe weather's worst-case scenarios. The EA and its engineering firm, Jackson Civil Engineering, opted to work with the system integrator Installation Maintenance and Controls Ltd (IMAC) to develop a solution that met their needs.
IMAC connected four pumping stations, with a Rockwell Automation® ControlLogix® system at each; and designed and built a VPN network that connected each control system, with a solution that featured a secure encryption policy with Internet, Wi-Fi, and cellular network capability.
The end user wanted to ensure that if it got alerts about approaching weather fronts, storms, and similar issues, it could immediately monitor river levels and compare those with previous data. From there, employees could make an informed judgment call to remotely amend set points at the sites in order to handle the incoming issue preventively, as opposed to having to react after a severe weather event had occurred.
In addition, the EA sought remote access to help reduce its carbon footprint and meet lean goals. By remotely monitoring equipment, the staff would be able to cut down on travel time and costs.
Always-on monitoring
IMAC proposed that the EA use a ProSoft industrial cellular gateway at each pumping station. Each gateway had an external antenna mounted outside the pumping station to attain the maximum cellular signal. The gateways comprise a Persistent Data Network (PDN) for the EA. The network is an always-on, managed solution that's oftentimes used by utilities and similar organizations to ensure constant monitoring, through which alerts can be configured.
The network – and its gateways – are monitored via Belden Horizon, which the EA found to be easy to use while maintaining high levels of security. EA staff can now monitor the equipment through the service on mobile phones and tablets, where they can control floodgates if needed.
This remote connectivity service works by granting single-use credentials for tunnel connections to the EA's gateways, ensuring data is kept secure. Other defense-in-depth security measures include 256-bit AES encryption; the use of a single sign-on method; and a first-of-its kind Virtual Lockout-Tagout system, which requires an administrator to grant permission to users who need to remotely connect to the equipment.
"The Persistent Data Network ticked all the boxes in providing a secure, resilient system for the agency," said Myles Heinekey, ProSoft Regional Sales Manager. "The EA opted for a three-year PDN subscription, through which they can still add extra sites quickly if needed."
"On behalf of IMAC and our client Jackson Civil Engineering, I would like to thank Myles and the team from ProSoft. As a collaborative team, we were able to engineer an innovative solution that makes a real difference for the client," said Darminder Rainu, IMAC Director.
The EA has found that being able to remotely monitor the equipment has helped them improve their response time should an issue occur, and has increased efficiency as well. They're also now able to perform predictive maintenance and schedule any needed shutdowns.
"The project team has adapted brilliantly to new ways of working and has innovated both in delivery and the final product," said Paul Arnold, Catchment Engineer, Environment Agency.
Overall, the system provided a forward-looking solution that met the required security needs.
"The system that IMAC & ProSoft developed for the scheme is intrinsic to the operation of the Washlands system into the future. The ability of the site systems to communicate with each other and feed information back to the EA operations Team is a huge step forward in capability and industry standards, " said Darren Blank, Jackson Civil Engineering, Project Manager. "The developers at ProSoft worked diligently with ourselves and our client to achieve an output product that was both highly effective and compatible with the complex EA and government security protocols. I cannot speak highly enough of this product and the team behind it. "
Learn more about solutions for Water and Wastewater applications.