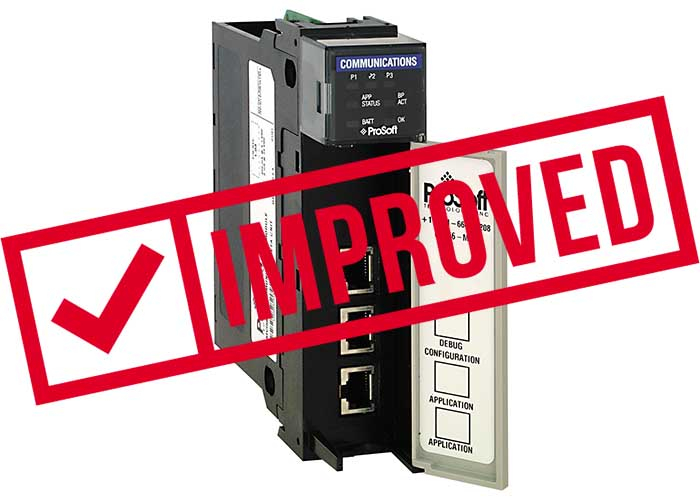 Top Benefits of the Newer Modbus® Modules
Since we posted about the upcoming retirement of some legacy Modbus® modules, we've been getting questions about how you'll benefit from the enhanced modules that are already in place for your legacy Modbus application.
Here are our top picks for how the enhanced versions will benefit your operation:
The enhanced modules are configured over Ethernet instead of serial, and can even be configured over the backplane via a 1756-ENxT module. This is helpful if you have a new laptop without a serial port: No more carrying around a USB-serial tool.
The enhanced modules have a faster processor, so you can expect a 20 percent to 30 percent performance boost for Modbus® TCP.
The MVI56E-MNETC and MVI56E-MCM modules now have firmware that doubles their internal database size from 5,000 to 10,000 words each. (Pro tip: Make sure the modules' Add-On Instructions are updated to the latest version so you can take advantage of this increased storage!)
The MVI56E-MNETC now features client and server support – its legacy version was client-only. (You can access this feature by updating to the module's latest Add-On Instruction version.)
If you're wondering if these extra features carry a higher cost, we've got good news: the enhanced modules have the same or lower price than the equivalent legacy modules.
Answers to your other FAQs
Which modules are moving to End-of-Life status soon?
Check out the full list of modules with their replacement solutions:
What does the E stand for in the new product numbers?
E stands for Enhanced in this case – reflecting the newer modules' enhanced processors and memory.
Should I be worried?
Absolutely not! ProSoft already has drop-in replacements for each one, ensuring a streamlined update process – and improved features.
Hang on. By drop-in, do you mean I can simply use the new module in place of the old one?
Yep! For most of the legacy modules listed, you would use the new MVI56E version the same way you would use a spare MVI56. Just transfer the configuration from the old module to the new one, by transferring the old CF card to the new module. Then just install the new ProSoft module in the chassis and your control system will continue to run like it did before.
For the MVI56E-GSC and MVI56E-MCM, you don't even need to transfer CF cards since the configuration is automatically transferred by the PLC ladder logic when you install the new ProSoft module. (Note: If your ladder logic is really, really old, you may have to upgrade to the latest versions of ladder.)
What if I run into problems when upgrading to the enhanced module?
ProSoft's worldwide technical support experts can help you through each step of the process, ensuring your application won't skip a beat.
Let us help you move forward in your Modbus communications strategy – contact us here!