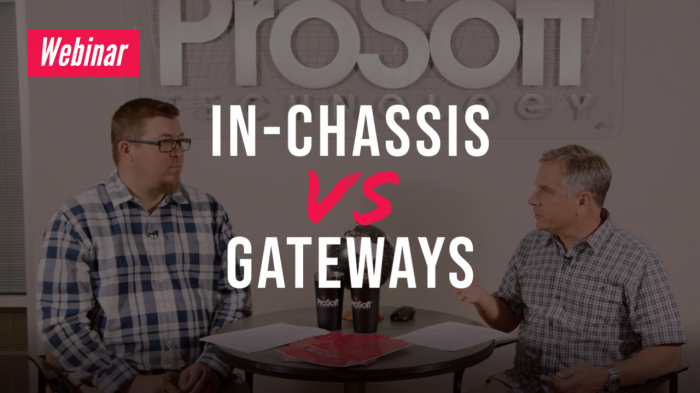 Must-Watch: In-Chassis vs. Gateways Cagematch
We hosted the second cagematch webinar in May! Brett Gartner and Bobby Maxwell represented in-chassis modules and gateways, respectively, at ProSoft's headquarters in Bakersfield, California.
Last year, our cagematch focused on wireless vs. cellular communications. This time around, we wanted to find out which protocol converter reigns supreme. It turns out that it really depends on your application's needs – but ultimately we ruled in in-chassis' favor. (Let's hear it for a fair fight that kept us laughing, though!)
If you missed the cagematch, make sure to watch recording below. We also compiled three key takeaways from the battle:
· In-chassis' initial cost is made up – and then some – over time: More panel space, dealing with vendors, the higher risk due to an outside component – these are all examples of what you'll avoid with in-chassis modules, Brett noted. While in-chassis has a slightly higher upfront price, you're saving costs in other areas, making in-chassis modules a higher-value option.
· Flexibility is a key factor for gateways: Flexibility came up in each round of the cagematch, and with good reason: Gateways can be closer to end devices, and a key benefit is the ease in adding them to your application later. You don't necessarily know now which protocols you'll have a few years down the line, or how much equipment you'll need to connect via these flexible solutions.
· Both win when it comes to configuration: Configuration for both solutions is streamlined. Most of ProSoft's in-chassis modules and gateways feature Add-On Instructions or Add-On Profiles, enabling quick integration in Logix architectures. Meanwhile, gateways are platform-agnostic, with configuration that's generally standalone.
Watch the webinar below and let us know what you think!
Contact us to learn more about in-chassis modules and gateways for your application.