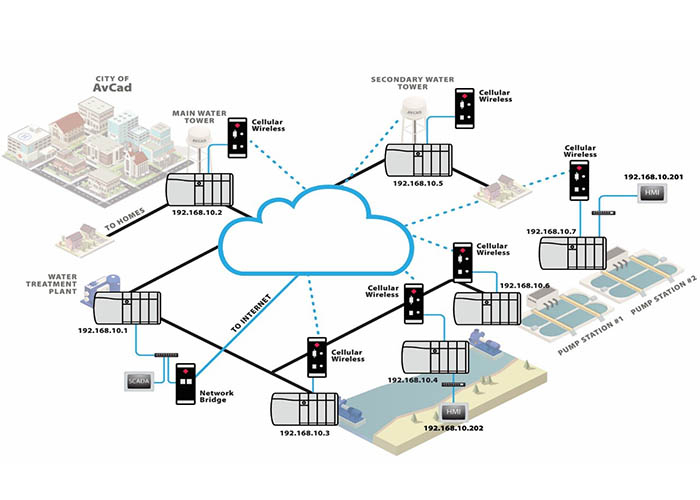 Keep a forward outlook when updating your utility's communications network
If yours is like many smaller utilities, you may recognize these scenarios:
Increasing service area with a plateaued (or decreased) workforce to cover it
Unreliable coverage via a leased line- or radio modem-based communications network
Increased maintenance of your network by a stretched-thin workforce
And through it all you may be dealing with a utility director who's telling you to find a more reliable solution – preferably one that costs less.
Cellular communications
One option that has proved more reliable for large coverage areas is cellular communications. You've likely heard that 3G isn't supported by most carriers anymore, so opting for solutions that use 4G LTE can help guarantee longevity for your application.
The technology's reliability is a significant upgrade from the leased line and radio modem-based solutions some utilities still have in place, and 4G industrial solutions' integration with your control system can't be beat. Cellular gateways can send information back to your controller for monitoring and troubleshooting, and some can be managed with cloud-based platforms.
What to consider
Thinking cellular may be an option for your utility's operations? Here's what to keep in mind when considering solutions:
For a utility, a managed solution can be a more efficient option. For existing older systems, you may be used to having to manage homegrown solutions on your own – but it's not always the best use of time. If you can find a solution that offers a high degree of reliability and security, a cloud-based, managed network may be an ideal always-on alternative to leased line and radio modems.
Your environment is also an important consideration. If the climate is extremely warm or cold or very dusty, you'll want to opt for a cellular solution that can stand up to the rugged location.
You'll also need to ensure any solution you choose is easily expandable. For cellular solutions this is practically a given due to the technology, but it's also important to ensure the expansion of your network as your coverage area expands is streamlined. By choosing a solution that can be easily added to from design to integration, you'll save time in the long-term.
Learn more about always-on remote connectivity for utilities here.