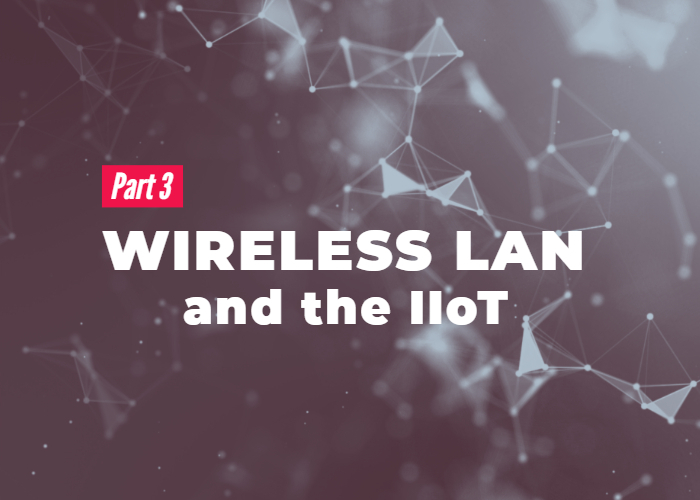 Wireless LAN and the IIoT
More than 35 years ago, the IEEE 802.3 standard for Ethernet technology set in motion a universal mode for transmitting information. Generally used in industry but no stranger to home-based applications, Ethernet ports have become ubiquitous. They help ensure devices can be connected on a Local Area Network (LAN), and the technology is easily understood and installed when the environment and equipment involved support the use of the technology.
In 1999, wireless Ethernet took a nod from IEEE 802.3 with the creation of the IEEE 802.11 standard. This successor controls wireless LAN technology – which was designed to work the same as wired Ethernet.
This was a wise move in ensuring more streamlined adoption of wireless. Eliminating that extra learning curve translates to a smoother installation. In addition, the technologies working in harmony allows for better integration of the two in applications where both are used, and provides more freedom in site design to companies. For companies that are switching from wired Ethernet to a wireless infrastructure, the coordinated technologies can even help them update communications on their timeline without losing existing connectivity, reducing the CapEx of the project.
Benefits of wireless Ethernet
While the two technologies' designs are entwined, wireless Ethernet has some benefits that make it ideal for the industrial space.
· Streamlined network extension: Ten to 15 years ago, you may have thought you knew exactly how many stations you would need to monitor and how much equipment needed to be connected. Your plans have likely since changed, expanding as your application grew – and that's great! Know when it would be a time-consuming and costly endeavor? When wired Ethernet is all over your application. The rise of wireless has ensured that you can add a reliable wireless radio to your new equipment that needs to be monitored, set it up to transfer data to your other radios and PAC, and – you're done. The fact is that you never truly know what your network extension needs will be down the road – and wireless technology means that you don't need to invent a manufacturing crystal ball.
· Connecting devices without running cables: Regardless of the setting, running cables is a time-consuming process. From permits and trenching to running the cable, it's a labor-intensive and costly project – and after that, there's maintenance to consider along with the care needed to avoid accidental damage. Opting for wireless Ethernet allows you to reduce the time and cost involved.
· Enabling modular manufacturing: For applications involving process changes, this is a crucial benefit of industrial wireless. By enabling a streamlined change in work cells or procedures, wireless technology can lend flexibility via modular manufacturing. This is especially key for applications involving moving equipment, including AGVs and skids.
· Control cabinet connectivity for the mobile worker: Wireless technology helps ensure that a worker who needs to connect into the control cabinet can do so quickly and efficiently. If a slight change needs to be made, this capability protects the productivity of the overall operation, reducing downtime.
Talk with an expert
To learn more about how wireless technology would fit into your application, we recommend consultation with a wireless design expert. They'll be able to assess your needs and conduct a site survey. Contact us to learn more!
This is Part 3 of a five-part series focused on wireless connectivity and its effect on industry. Next up: A look at cellular technology and the IIoT. Check out the previous installments below, and subscribe at the box to the right to make sure you never miss this series!
- Part 1: How Connected Are You?