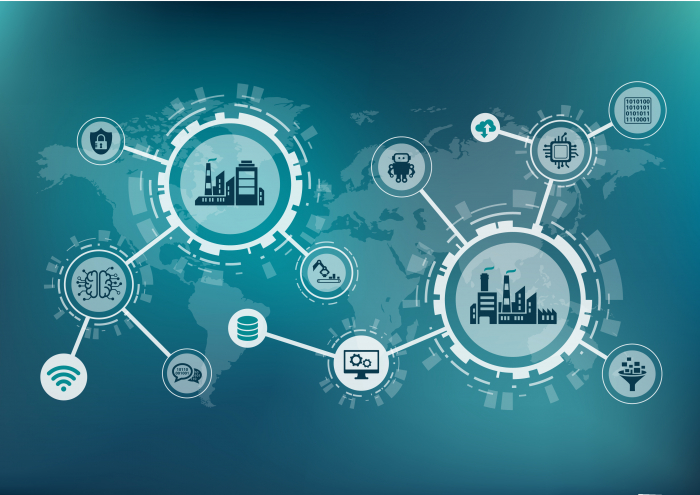 Gain Benefits from IIoT Connectivity
What more could you accomplish if you could analyze your equipment's data? Increased efficiency. Predictive maintenance. Reduced downtime. Higher production.
It sounds simple enough, but harnessing the information and thus the power of your connected devices is a process that takes time. The technology behind the Industrial Internet of Things (IIoT) can bring about business improvements in virtually every industry, but a layered approach to your IIoT strategy can help show measureable improvements to your operation, which can help convince the powers that be at your company to keep the IIoT improvements coming.
It starts with connecting your equipment. From there, you'll use communication tools to transfer data throughout your operation, and then store and aggregate it. After analyzing the information, you can take action based on the results, and realize benefits from your connected operation.
IIoT Benefits in Each Application
These improvements from IIoT connectivity can be seen in a variety of applications.
Modernization projects help you adopt newer machinery that is better equipped to help you benefit from the IIoT because they're able to network with more equipment. The great news? You can do this in a phased approach that lets you update your facility on your time frame using OpEx dollars. American Castings opted for a phased modernization and estimated over $100,000 saved – and IIoT benefits that included streamlined access to operational data and better follow-through of process control.
Oil and Gas producers can benefit from fully connected sites that allow for less equipment and more reliable communications, including 24/7 remote access to measurement and telemetry data. Pelican Gathering realized gains from integrated solutions that brought their data directly into their control system, and Modbus modules that connected field instruments to their disparate PLC.
In automated material handling applications, reliably connecting your facility's smart conveyors can help boost the return on your IIoT investment. An Italian eco-ethical company introduced a new network into their facility to take full advantage of their Wi-Fi radios' EtherNet/IP™ support; now they can easily manage and monitor their AGVs, which transport wood throughout their facility. They've improved capability and output as a result of these changes.
Using IIoT technology to remotely connect to your equipment can help in predicting maintenance, and reducing travel costs and downtime. Belden Horizon™, a cloud-native platform, provides a secure spot to collect, analyze, and act upon your operation's data from anywhere in the world.
For more than 30 years, ProSoft Technology has helped customers worldwide through each step of their IIoT journey, providing a solid foundation for sustainable, measurable improvements. With solutions designed for industrial environments, you can connect directly to your process data; refine your information; and act upon your findings at every level of your operation. With robust industrial connectivity and communication solutions, a successful IIoT strategy will be your reality – and not just another buzzword.
What will you accomplish by leveraging ProSoft's IIoT solutions?