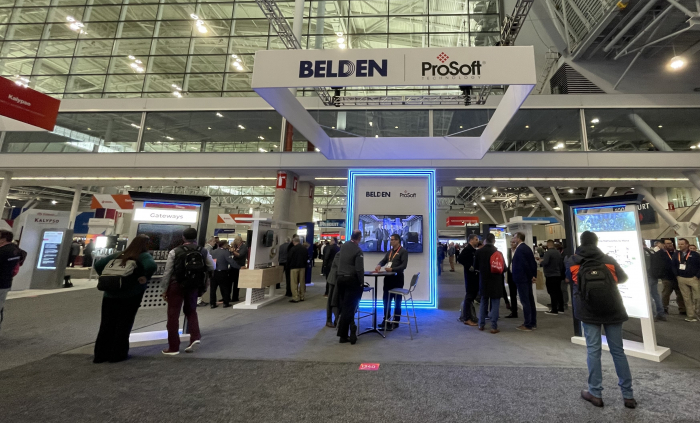 What You Asked About Most at Automation Fair: Modernization, Water and Wastewater Connectivity, and Protocol Conversion
Earlier this month, we got to go to the latest Automation Fair in Boston – this time a supersized one with learning opportunities to start and expo days to finish. We had a great time in a booth we shared with our parent company, Belden, and were able to talk with so many of you about your applications. Throughout the course of the show, we heard the latest situations that have you looking for connectivity solutions.
The three applications you were especially interested in were:
Modernization
It's a situation no one wants: A control system meeting its end before your facility is ready. The downtime alone is the stuff of nightmares, but so is the cost of a traditional rip-and-replace – taking on that larger bill is a hard sell in lean times.
With the new AN-X4 modernization gateway, companies can update select legacy Rockwell Automation® systems with very minimized downtime, thanks to the unique setup: You're able to keep legacy systems running while migrating to a new PAC, giving you the time to make sure all is up and running. This type of phased modernization is what had a lot of visitors to our Automation Fair booth talking as they consider what's next for their legacy equipment. (Contact us for more details about how you can modernize!)
Water and Wastewater Connectivity
How do you monitor and connect equipment across a wide service area that might only be growing larger in the coming years? And what's the best way to update legacy equipment when you work in an industry where operations can't be down?
These are pressing questions for many water and wastewater utilities. What's needed in many cases is a reliable way to connect dispersed equipment, and easily add new devices to that network – plus a way to update lingering DF1 devices.
An always-on remote connectivity network can help each site communicate – and allow operators to monitor dispersed sites and perform some troubleshooting remotely. The Persistent Data Network (part of Belden Horizon) allows utilities to do so very securely from anywhere they are.
If you need to update DF1-based equipment, the DF1 Routing Module can help you do so in phases. Like with the Modernization Gateway, the DF1 module ensures a smooth transition with limited downtime – a must for water and wastewater applications. In addition, the DF1 Messaging Module can help pave the way for a smooth update from leased line modems (commonly found in water and wastewater applications) to wireless radios.
Protocol Conversion
We got started in the automation industry by enabling disparate systems to communicate with each other – and we heard about that need a lot at this year's show. Lots of applications require connectivity between an EtherNet/IP™-based control system and any number of other devices, including Modbus, PROFINET, PROFIBUS, and more.
Curious to see what's available? On both our in-chassis and gateway product pages, we have a selector tool that allows you to select two protocols – the combinations enable reliable connectivity between your facility's industrial protocols.
Curious about whether in-chassis modules or gateways are best for your application? Discover the benefits of each of these solutions.
Not able to go to Automation Fair this year but in need of reliable connectivity for your application? Contact us with the details.